Here's how the Seahawks are helping the Cardinals for the Panthers game
The Seahawks are helping their rival.
If you watched Seattle lose to the Carolina Panthers during the divisional round of the playoffs on Sunday, you may have noticed that several Seahawks were slipping and sliding all over the field during the first half.
Things got so bad in the first quarter for Seattle that Fox sideline reporter Erin Andrews even noted that Seahawks players were screaming for different cleats.
Seahawks want cleats changed. pic.twitter.com/jBy04Bu45K

— arcusD (@_MarcusD_) January 17, 2016
Apparently, the Seahawks don't want the Cardinals to have the same problem in the NFC title game on Sunday, so they've offered their division rivals some advice on how to handle the field at Bank of America Stadium.
When Cardinals players got to practice this week, they had a gift waiting for them in their lockers: a piece of paper from Arizona's equipment staff that told each player what size cleat stud they should wear for this week's game.
The Cardinals equipment staff was able to make the recommendations thanks to their friends in Seattle.
The @Seahawks helped out the @AZCardinals this week with advice on cleats in Charlotte against @Panthers: pic.twitter.com/4KkHaDAaWD

— Daniel Hill (@D_Hill80) January 20, 2016
Running back David Johnson didn't waste any time putting on the new "7 stud" cleats.
"What I'm doing is, I got the seven studs, the cleats," Johnson told KMVP-FM in Phoenix. "They're a longer cleat for me to be able to grip the ground better."
Cardinals cornerback Jerraud Powers did point out that his team probably won't worry about the conditions too much because when they faced the Panthers in Carolina last year, the game was basically played in a torrential downpour.
"Last year when we played them in the playoffs, it was similar. It was wet, a soft field," Powers said. "The conditions aren't going to play a part on who wins or not, it's something we're definitely not even worried about. They've got to play in it just like we do. So, I don't think it's an advantage either way."
For coach Bruce Arians, the Seahawks' advice is nice, but he wants his team aware of the field.
"I don't care if we're playing in a parking lot. It's the championship," Arians said. "Be aware of [the field conditions] and have the proper shoes."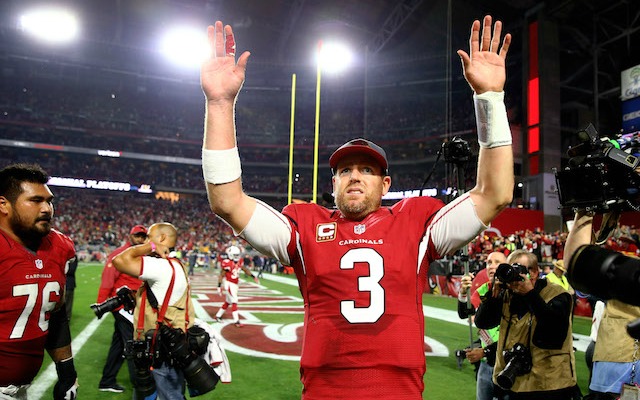 Show Comments
Hide Comments
Here's everything you need to know about the 2017 NFL Draft

Marshawn Lynch might not ever take off his Raiders' helmet

Where does your team need the most help? Check out this team-by-team breakdown to find out
Hernandez's third suicide note remains a mystery

Beast Mode seems like he's going to be a popular guy in the Raiders' locker room

The Browns might go quarterback and not take Myles Garrett No. 1 after all