Here's what the 49ers reportedly want from Broncos for Kaepernick
The Broncos are in need of a QB after losing both Peyton Manning and Brock Osweiler.
The Denver Broncos lost Peyton Manning to retirement and Brock Osweiler to the Houston Texans. The only quarterback left on their roster, as of this writing, is a guy by the name of Trevor Siemian. (If you've never heard of him, don't worry; we've got you covered.) At some point between now and the start of the season, they will have to add a quarterback or two.
Enter the San Francisco 49ers. The team's relationship with Colin Kaepernick has been rocky for about a year now, with multiple reports that he wants out and/or they want him out. There have been denials up the wazoo but at a certain point, when there's enough smoke, there's probably a good bit of fire there, ya know? And so we have this report from Mike Silver about a potential Kap-to-the-Broncos trade:
1) What I just reported on @nflnetwork re Broncos: Colin Kaepernick is their chief target. I believe they will go after him via trade...

— Michael Silver (@MikeSilver) March 10, 2016
2) The 49ers likely want a second-round pick; Broncos may be willing to part with a third. The dance continues.

— Michael Silver (@MikeSilver) March 10, 2016
3) I'm told Kaepernick is likely willing to restructure contract to Broncos' liking... Though, to be fair, it is somewhat team-friendly...

— Michael Silver (@MikeSilver) March 10, 2016
A third-round pick is a pretty high price to pay for someone that a lot of people in NFL circles are pretty confident the team that controls his rights is trying to get rid of. A second? That's even more wild.
The fact that they're even talking about things like this probably speaks even more to what the Broncos think of Robert Griffin III, Ryan Fitzpatrick and the other free agent options still on the board than it does to what they think of Kap. If they're willing to wade into the trade market for a QB rather than pick one up for just cash, what does it say about the guys that are out there for anyone to sign? 
Considering how much information Elway can likely get on Griffin from his old coach Mike Shanahan, that's probably not a good sign for RG3 landing in Denver, assuming the report is accurate. It also lessens any potential leverage Fitzpatrick might have in his contract with the negotiations with the Jets, if the Broncos are really willing to make a deal with a Day 2 pick over trying to sign him without giving up draft compensation.
As for Kaepernick himself, he's got the athleticism to work pretty well in Gary Kubiak's bootleg-heavy offense, and a system that limits his reads to one side of the field could help with his iffy decision-making. However, he's not typically a player that gets the ball out very quickly, which could mess up some of the timing that is essential to the Denver offense. Still, he's only 28 years old and has shown that he has a peak level of "absolutely unstoppable," so there are worse ideas than taking a bet that you can tap back into that potential.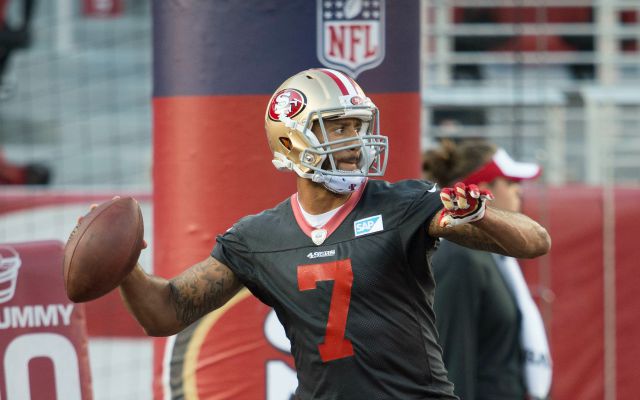 Show Comments
Hide Comments
Our Latest Stories
Thanks to surprising QB play and great defense, the odds are improving for Philly and Minn...

Bryant injured his right knee during Dallas' win on Sunday

Jeff Fisher is sticking with Case Keenum despite his poor play
The Texans' sackmaster appeared to have recovered from offseason surgery and didn't miss a...

Long snapper Kameron Canaday is a free agent after his latest mistake

The Patriots have one more game to endure without Tom Brady