Hillary Clinton: Redskins name is 'insensitive,' team should change it
Former Secretary of State Hillary Clinton thinks it's time for the Redskins to change their name.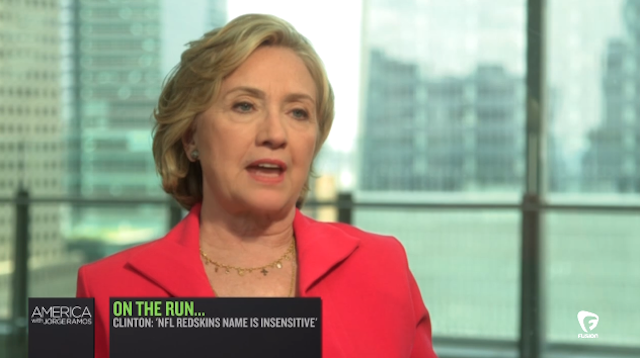 More NFL: Photos |  Videos & GIFs |  Training Camp updates | Manziel watch
Everyone in Washington D.C. seems to be turning on the Redskins, at least when it comes to the team's name. 
U.S. Attorney General Eric Holder said in mid-July that the team should change its name and former Secretary of State Hillary Clinton agrees. During an interview with Fusion TV on Monday, Clinton was asked if she thought 'Redskins' was a racial slur.
"I think it's insensitive and I think there's no reason for it to continue as the name of a team in our nation's capital," Clinton said. "I would love to see the owners think hard about what they could substitute."
Clinton was then asked if she had any suggestions on what the team could change its name and said: "No. No. I haven't thought a lot about that."
Red Pandas is the correct answer, but obviously, no one told Hillary that. 
The U.S. Patent and Trademark Office also isn't a fan of the name. The U.S. PTO canceled the Redskins' trademark registration in June because it considered the team's name "disparaging to Native Americans."
Show Comments
Hide Comments
Our Latest Stories
Dolphins-Bengals will not be streamed live on Twitter this week, but here's how to watch

Burfict returns to the lineup with the Bengals on a two-game losing streak

Can the Cowboys win without Romo and Bryant in the lineup? That will likely be answered Su...
Kelly has defended Kaepernick's right to protest during the national anthem

The Bengals can't afford to fall to 1-3 if they hope to return to the playoffs for a sixth...

Mike Tolbert pays his debts, even if he considers the services rendered less than exemplar...