How to watch Steelers-Broncos on TV, online stream at CBS Sports
Peyton Manning is back under center the Broncos while it looks like Ben Roethlisberger's status is up in the air for now after he suffered a shoulder injury last week.
Will Ben Roethlisberger suit up for the Steelers on Sunday? Probably, but not definitely. It's still up in the air after the shoulder injury he suffered last week. Will Antonio Brown play? Well, that's an even iffier proposition, due to his concussion. We don't know for sure in either case.
What we do know is that the Steelers are headed to Denver to take on the Broncos, the top seed in the AFC playoff bracket. Pittsburgh escaped from Cincinnati with a win after a series of mindblowing mistakes from the Bengals led to a last-second field goal by Chris Boswell, which earned the Steelers their trip to the divisional round.
Denver will start Peyton Manning in this one, meaning the Broncos will have a different man under center than they did when they lost to Pittsburgh 34-27 back in Week 14. Manning came on in relief of Brock Osweiler during the Broncos' Week 17 win over the Chargers and was named the playoff starter shortly thereafter.
Manning. Ben (probably). Broncos. Steelers. Sunday. We know you want to watch, so check out the info below that lets you know where this game is available.
What: No. 6 seed Steelers (10-6 regular season, 1-0 playoffs) at No. 1 seed Broncos (12-4)
Where: Sports Authority Field at Mile High Stadium; Denver, Colorado
When: Sunday, 4:45 p.m. ET
Will it be on TV? Yes, of course. CBS Sports is broadcasting the game. Jim Nantz (play-by-play), Phil Simms (analyst) and Tracy Wolfson (sideline) will call the game.
How to watch online:
1. Via CBSSports.com: Simply head to this link to stream the Steelers-Broncos game in the NFL Playoffs. Live streaming on mobile devices is only available for eligible Verizon Wireless customers via the NFL Mobile App.
2. Via the CBS Sports Channel/App on Roku, AppleTV, XBOX One, Windows 10, and Chromecast! We're here for you with a plethora of streaming options.
The Broncos are seven-point favorites at home for this game. For a complete breakdown of how the game could play out, check our analaysis on SportsLine.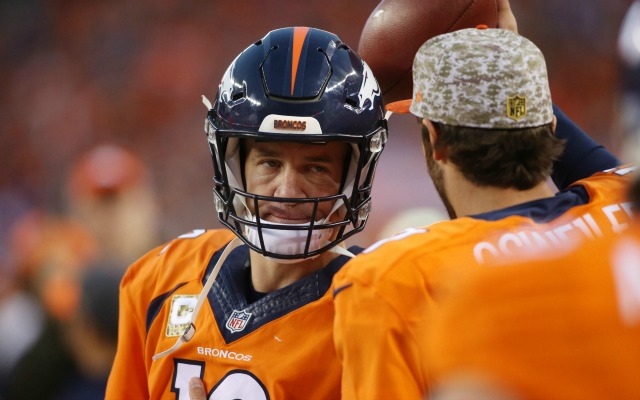 Show Comments
Hide Comments
Kaaya will battle for the right to back up Matthew Stafford

Jets trade down five times after GM Mike Maccagnan made it known they were looking for extra...

Spencer Hall grades every seventh-round pick of the 2017 NFL Draft
Spencer Hall grades every sixth-round pick of the 2017 NFL Draft

He's also better at football than you

Brantley was regarded as a second-round talent before he allegedly knocked a woman unconsc...