Hoyer has torn ACL, will miss rest of Browns season after surgery
The Browns learn that Hoyer has a torn ACL. CBS Sports NFL Insider Jason La Canfora reports no other ligaments were damaged.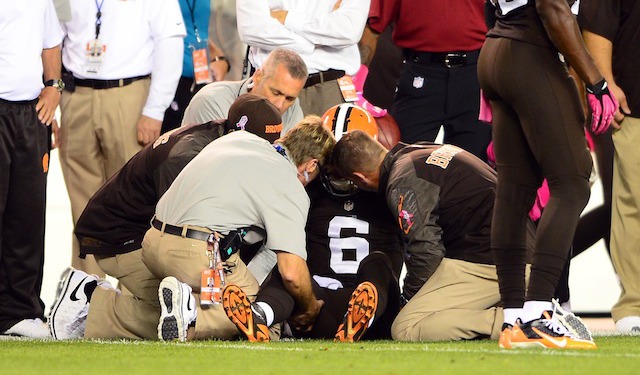 Thursday night brought a 37-24 victory for Cleveland over Buffalo and put the Browns into first place in the AFC North -- and over .500 for the first time since 2001! -- but it came at a price.
CBS Sports NFL Insider Jason La Canfora reports that Browns quarterback Brian Hoyer, who suffered a nasty injury early in the game against the Bills, suffered a partially torn ACL on the play. The plan is to get a second opinion and then have the knee repaired.
Surgery will end Hoyer's season, but La Canfora reports that no other ligaments were damaged so the injury is not as bad as it could have been.
Hoyer took a shot to the head from Bills rookie linebacker Kiko Alonso but the real damage came to his right knee, which collapsed in painful fashion as Hoyer was unable to get out of bounds or even slide properly.
The longtime backup, signed this offseason by the Browns, earned his first start of the year against the Vikings in Week 3 after incumbent Brandon Weeden lacerated his hand in Week 2. 
Hoyer led the Browns to two consecutive victories and appeared to have the starting gig all but sewn up for as long as Cleveland wasn't completely embarrassing itself on offense.
But Thursday's injury opened the door for the return of Weeden, who struggled off the bench but ultimately was able to guide the Browns to victory.
The Browns are fortunate to have their original starter available for backup duty but obviously the injury is a blow to Hoyer, who finally got his shot at leading an NFL team and was making the most of it.
Like Eye on Football on Facebook and love the EOF Podcast by subscribing on iTunes.
Sherman thinks that all quarterbacks on all NFL teams get treated better than anybody else

The Patriots coach looks pretty cool on the 15th anniversary cover of Nantucket magazine

Taco Bueno has been angling for a deal with Charlton ever since he was drafted
Jeff Garcia, Jimmy Clausen and Justin Forsett explain their involvement in American Flag Football...

The Panthers added more playmakers to take some of the pressure off Newton this season

Young has been out of the NFL a while but still feels slighted when other quarterbacks get...