Hue Jackson: Andy Dalton, A.J. Green are best QB-WR duo in NFL
If you want to see the NFL's best quarterback-receiver duo play this year, you'll have to go to Cincinnati, according to Bengals offensive coordinator Hue Jackson.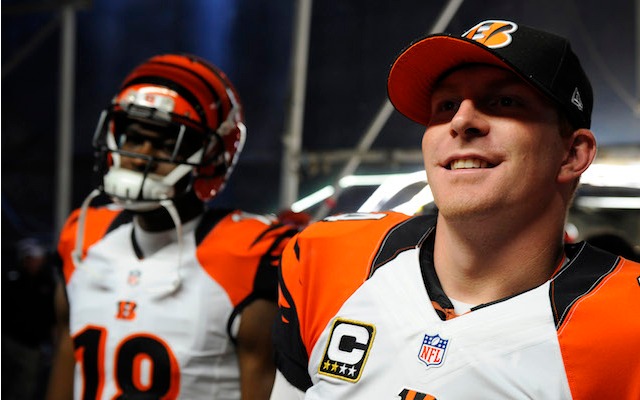 New Bengals offensive coordinator Hue Jackson likes what he sees in Cincinnati and what he sees is the NFL's top quarterback and wide receiver duo. 
During an interview with SiriusXM NFL this week, Jackson said he believes that Andy Dalton and A.J. Green are the top tandem in the league. He didn't say if he meant regular-season only.
"I think they're the best in the game in my opinion," Jackson said. "I know people will fight that and say differently, but I've watched these guys and these guys have grown. They came in together. They started off hot, they're still hot. Every year statistically, they've gotten better."
Green went from 65 catches in 2011 to 97 in 2012 and 98 in 2013. Green's 260 career receptions are the most by a receiver in NFL history through a player's first three seasons. Green's also improved on his yardage total in each of this three years in Cincinnati. 
Dalton has steadily improved during this three seasons with the Bengals, but that improvement hasn't translated to the postseason yet where the quarterback is 0-3.
Jackson says both players are looking to end the playoff drought. "At the end of the day, they're both chasing something else, they're both chasing getting this team beyond a playoff win and on to the Super Bowl," Jackson said. 
Most votes for best duo would probably go to Peyton Manning and whoever he's throwing passes to, but Jackson says he wouldn't trade his guys for anyone.   
"I think both of these guys are in the prime of their careers," Jackson said. "I wouldn't change the two guys I have for anybody at this point because these guys know how to do it together." 
Show Comments
Hide Comments
College players who didn't get drafted are now free to sign with any team in the NFL

According to Sean McDermott, Taylor, Peterman and Cardale Jones will compete for the starting...

When factoring in value and quality of player, several teams stand out as true winners of the...
Injuries have limited Smith to just 14 games in two NFL seasons

Spencer Hall grades every sixth-round pick of the 2017 NFL Draft

Spencer Hall grades every fifth-round pick of the 2017 NFL Draft