In wake of Michael Sam, a brief history of No. 249 overall draft picks
With Michael Sam jobless at the moment, let's take a look at the careers of those who preceded him at the No. 249 overall draft pick.
• 2 min read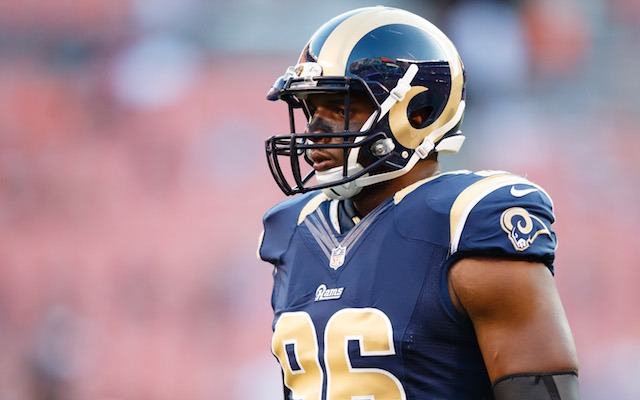 After Michael Sam failed to make the Rams 53-man roster, it was revealed Sunday that the first openly-gay NFL player passed through waivers unclaimed and is now a free agent, eligible to sign with any squad on its active roster or on its 10-man practice squad.
So far, that hasn't happened, and if you ask some, it's not a big surprise. Writes CBSSports.com's Pete Prisco, "Sam did some good things in the preseason, but he did it against backup tackles, some of the already-cut variety. I went back and studied Sam's preseason games and came away with this conclusion: He plays hard and has some pass-rush ability, but he needs a ton of seasoning."
That likely isn't unusual for those who were drafted as late as Sam in the No. 249 overall slot. But I woke up this morning wondering about the historical consequences of being selected in that particular spot.
So, I took a look at the No. 249 overall draft picks from the past 20 years. Mostly, you've probably never heard of those who were selected (though, curiously, Ryan Fitzpatrick in 2005 and Ahmad Bradshaw in 2007 were selected at the No. 250 position), but those taken at No. 249 in the past five years have actually had some success in the league.
Here's what's happened in the past five drafts:
2013: Falcons choose quarterback Sean Renfree: Was placed on the IR list before the 2013 season. For now, he's seemingly the No. 3 quarterback for Atlanta behind backup T.J. Yates. He could have been added to the practice squad, but the Falcons were reportedly worried Refree would be claimed on the waiver wire.
2012: Falcons choose defensive tackle Travian Robertson: Has played 13 games in his first two seasons, with one start, and accumulated eight total tackles. The Falcons released him last week to get down to their 53-man roster before signing him back to their taxi squad.
2011: Cardinals choose receiver DeMarco Sampson: Caught three passes for 36 yards during his rookie season, but he hasn't recorded a statistic since then. He's also spent time with the Eagles, Bills and 49ers. Currently, he's on the roster of the LA Kiss of the Arena Football League.
2010: Panthers choose defensive back Robert McClain: Spent time with Carolina and the Falcons, and he's accumulated 11 career starts in 47 games to go with 109 total tackles, an interception and a sack. He should get playing time in Atlanta this year as a nickel back, but he also worked in the preseason at the safety spot.
2009: Bengals choose defensive tackle Clinton McDonald: After one season in Cincinnati, McDonald stuck around for three seasons with the Seahawks, recording 5.5 sacks and an interception during Seattle's Super Bowl run. In March, he signed a four-year, $12 million deal with the Buccaneers.
So, what have we learned? Well, none of those who were at No. 249 in the past five seasons disappeared after their initial training camp. All stuck around the NFL for at least a little while, and at least one (McDonald) has made more money than most anybody could have expected.
But even if Sam doesn't immediately sign with a team, that doesn't mean his journey into the NFL has been for naught. Or that he still could sign with a squad in the future. Because he very well could and he probably should.
@MikeTanier @mikefreemanNFL People seeing this as Sam's death sentence, though, have to realize that his story isn't completely written yet.

— Eric Edholm (@Eric_Edholm) September 1, 2014
Show Comments
Hide Comments
Jahri Evans is headed to Green Bay after spending 11 seasons in New Orleans

This is the biggest bird statue you'll ever see

Here's everything you need to know about the 2017 NFL Draft
Marshawn Lynch might not ever take off his Raiders' helmet

Where does your team need the most help? Check out this team-by-team breakdown to find out

Hernandez's third suicide note remains a mystery