INFOGRAPHIC: Jersey sales stats by state reveal interesting results
A new retail-based jersey report indicates that fan bases of many NFL teams are spread far across the country.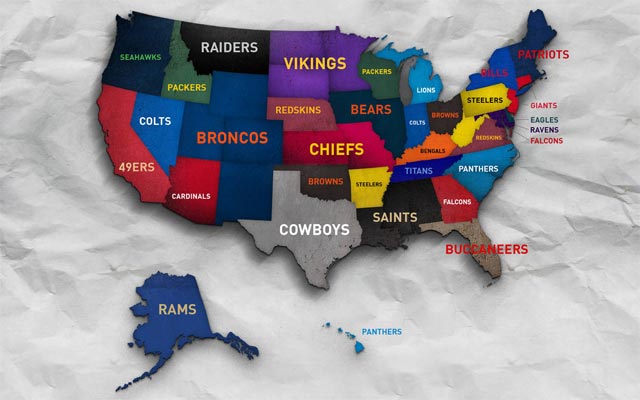 Dick's Sporting Goods has released its latest jersey report -- an "official ranking of the best-selling players jerseys nationwide" through the first three weeks of the NFL season, according to sales at their stories -- and suffice it to say, there is plenty of shake-my-head data on the most popular teams in certain states.
• Neither the Giants nor Jets sells the most jerseys in the state of New York; the Bills somehow hold that distinction.
• The Redskins have apparently taken over Nebraska, while the Ravens own not only their own state of Maryland, where the Redskins also play home games, but DC as well.
• Despite residing nearly 4,700 miles away from the stadium, football fans in Hawaii are big supporters of the Carolina Panthers.
• Similarly, Alaskans must not mind the 3,700-mile trek from St. Louis, as they are apparently purchasing plenty of Rams jerseys.
• The Buccaneers have taken control of the state of Florida, perhaps due to the fact that they are donning new jerseys this season (certainly not because of their play the first three weeks).
• Neighboring states Oklahoma and Arkansas root for teams from another pair of neighbors -- Ohio and Pennsylvania -- as the Browns and Steelers, respectively, have the top-selling jerseys in those two states without professional teams.
• It cannot hurt to have "Luck" on the back of your jersey while in Las Vegas, which must explain why the Colts are selling so many tops in Nevada.
• There is nothing even somewhat witty to say about the Raiders leading sales out of Montana, though owner Mark Davis may want to consider the state if he is unable to come to a deal on a new stadium in Oakland or Los Angeles.
•Idaho residents probably like cheese on their spuds, which has to be the reason why there are a ton of Packers fans in the Gem State.
Dick's top jersey sellers have plenty of expected names with 12 of the top 16 being quarterbacks. As far as overall team sales are concerned, the Browns rank No. 1 (thanks to Johnny Manziel), with "America's Team" (the Cowboys) checking in at No. 22.
Check out the rest of Dick's jersey report, which includes charts and additional breakdowns by team and player.
Wink of the Eye to SportingNews
Show Comments
Hide Comments
These 11 players could have a Dwight Freeney-type impact for the right team

Last week, Mark Davis revealed that he had refunded and re-sold about 1,000 tickets

Vick's legacy with the franchise that drafted him remains complicated
Navy SEAL Kyle Milliken, who died during a raid in Somalia, met Brady at Gillette Stadium in...

Cowboys fans will probably disagree with Claiborne's statement

'I want to score a lot of touchdowns. I want to see a lot of celebrations,' Harbaugh said