Infographic: NFL team of 30-and-overs vs. under-25 year olds
Following Justin Tuck's comments about over-30 NFL players, we asked Pat Kirwan and Pete Prisco to compare how over-30 players compare vs. under-25 players.
by

Eye on Football staff

• 2 min read
A few weeks back our Pat Kirwan spoke to new Raiders defensive lineman Justin Tuck about free agency. Tuck, a bit upset about leaving the Giants, with whom he spent the first nine years of his career,  expressed his anger about the marketplace for players older than 30.
Tuck called the Giants' offer, "pretty much disrespectful," and later told Kirwan that teams tend to view players his age (31) and older as washed up and unworthy of a good look. He also went on to say that a team of over-30 players could put a beatdown on the NFL's youngsters.
Well, being that the Super Bowl-winning Seahawks had an average roster age of 25 we posed the question to Pete Prisco as well, and tasked him with constructing a team of players 25 or under. Being Pete, he took it one step further and selected guys who aren't 25 year. So no J.J. Watt, no Russell Wilson, among others. Meanwhile, Pat Kirwan put together his version of Tuck's over-the-hill gang of players 30 years and up. 
We put the teams side-by-side, as you'll see below, to see which collection of starters looks better on paper.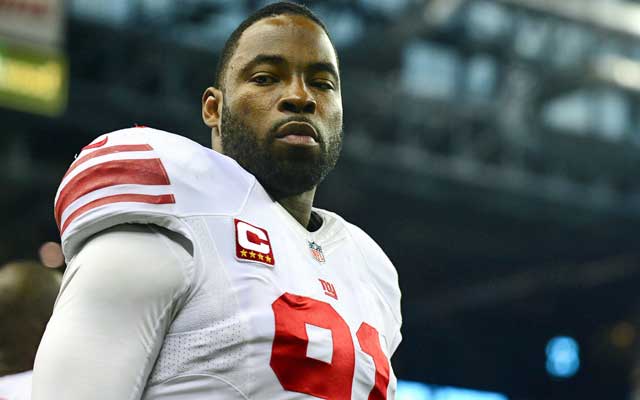 We also asked our friends at PredictionMachine.com to work their magic and pit the two teams against one another. In a simulation run 50,000 times, the Under-25 team wins more often, and with an average score of 25.9-24.3.
Here's what Paul Bessire, the GM of PredictionMachine.com had to say:
"Though the Over-30 team has a decent advantage at quarterback (right now), the Under-25 team is better at just about everything else. Specifically, the Over-30 team is weak at linebacker and safety (in a relative sense), struggling against the run and with the big-play abilities of players like [Josh] Gordon, [Alshon] Jeffery and [T.Y.] Hilton."
We included overall ratings metrics from Pro Football Focus in order to help further the conversation as well. 
Using the PFF overall rating we found that the young team had a better overall score, grading out at 451.6 to the over-30's 402.37. Each team had two players ranked highest among their respective positions with Peyton Manning and Brandon Marshall pacing the old crew and Robert Quinn and Cordarrelle Patterson (returner) atop their respective positions. 
Below is the side-by-side graphic of the two teams and if you click the images of Pat and Pete at the bottom or top of the story you'll get their explanations as well as key reserves for the teams. 
Graphic by Mike Coulter
Show Comments
Hide Comments
The Cleveland Browns quarterback has plenty of enthusiasm for his job

Rob Gronkowski's dreams are exactly what you imagine them to be

Cleveland brought in Ryan Grigson as a personnel executive
The former Bills GM says that he would make sure he gets a franchise quarterback

Sherman has engaged in some pretty cool jersey swaps over the years

Twerking is still outlawed under the NFL's new policy, which is bad news for Brown