Inside Football: If Adams family isn't selling Titans, what is it doing?
If you think the Titans are serious about winning in 2016, you're full of Mularkey. Tennessee's uninspired GM and coach hirings scream of an ownership group that's out to lunch.
• 6 min read
If the Tennessee Titans are serious about the 2016 NFL season, they have a funny way of showing it.
   A circuitous and long general manager search, devoid of most "A-List" candidates, was a means to an end, with the Adams family selecting a young general manger, Jon Robinson, who might be a fine choice and has a strong pedigree. But let's be honest, this was the Adams family reaching the one conclusion they wanted all along: To go on the cheap. The same goes for promoting Mike Mularkey by stripping him of his interim title.
It seems like moving from the second-overall pick in 2015 to the first overall pick in the upcoming 2016 draft wasn't enough for them. They want to corner the 2017 draft market as well. Of course, by then, most believe the heirs of Bud Adams will be out of the building, with the football world taking these latest decisions as yet another sign this team ain't long for that family. And it won't play well on Park Avenue, where not much has with this team lately. There are going to be some awkward conversations ahead at the spring league meeting, when there will be some explaining to do. Cases in point: In a five-day span, Titans ownership opted to skip a league meeting in Houston, where managing partner Amy Adams Strunk lives, then announced Mularkey's ascent during a playoff game. Are the Titans going out of their way to draw ire?
    There are too many worthwhile candidates to take over this franchise long-term for this to play out beyond this year. And with the Los Angeles conundrum nearly sorted out, there will be plenty of league officials turning even more attention to this Titans situation in the coming months. It will become more of a front-burner issue.
   As for the coaching decision itself, if you were expecting an inspired hire or even an engaged one, well, think again. This was always Mularkey's job to lose and, frankly, I'm not sure what he would have had to do to lose it, though his extended stint as interim head coach did almost nothing to win it. The Titans fired Ken Whisenhunt in the middle of the season to ostensibly better protect potential franchise quarterback Marcus Mariota, I suppose. But they ended up throwing together a few interviews with two of the usual suspects (Teryl Austin and Doug Marrone), as well as outgoing defensive coordinator Ray Horton, who barely kept his job there.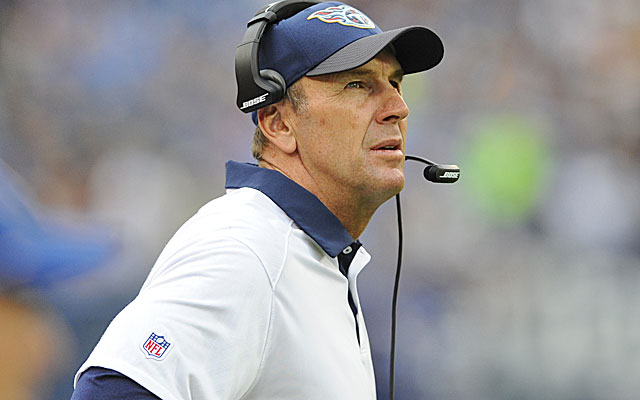 Say what you want about Chip Kelly, and he was hardly anyone's cup of tea among owners this time around, but the Titans could've at least feigned interest in Mariota's college coach to you know, maybe glean a few ideas and learn something about the prized asset. It can't hurt to sniff around some. Of course, by the time they got around to talking to coaches in their faux search, even Kelly had been hired by the one team that spoke to him -- San Francisco.
  As for Mularkey, well, no one thought he'd get another shot as a head coach, ever. Not even him. He is 18-39 as a head coach (.316 winning percentage!) over four NFL seasons and after going 9-7 with the Bills in 2004, he is 9-32 since. I don't even want to do the math on that one. With the roster and infrastructure around him, he may be lucky to duplicate the two wins he produced in nine games this season over the course of the 2016 campaign. If he makes it through. Even in the horrible AFC South, this was a bad, bad football team, and with the Colts likely at least better next season, the division might finally improve some.
   In a year in which no coaching hire has been really trumpeted, and in which the pool of candidates has been shallow overall, this process was more akin to stumbling in the baby pool. I'm not sure the water in Tennessee got above the ankle. It's barely yawn inspiring, much less awe inspiring, but with this bunch it is entirely not surprising. Many of us told you for weeks it was coming. Sadly, we were right. 
  If there is anyone in America who does not believe the Titans will be having another coaching search next year, raise your hand. The only real question is whether the Adams family will still be around to oversee it.    
The next spin on the coaching carousel
     The competition for defensive coordinators is going to be intense. Everyone followed their own tail and these teams led coaching searches focused on hiring a quarterback guy/offensive play caller and ignoring defense. Problem is, most of these teams -- San Francisco, Cleveland, Tennessee, Tampa Bay, Miami, Philadelphia -- have hardcore issues on defense. If it was me, all things being equal, give me a driven defensive head coach and let him hire a savvy play caller for the offense and away we go.
  Anyway, former Lions coach Jim Schwartz is among the most coveted coordinators, but he'll be super selective. The Jags have been trying to woo him for quite some time, among others. He built a new house in Nashville and his kids are in high school and he's not going to take a job just to take a job according to those close to him. I'm not thoroughly convinced he takes any of these. Former Miami coordinator Kevin Coyle would be worthy of another shot after becoming a scapegoat for the flawed Dolphins this past year. I really like the hire of Mike Smith by the Bucs, but some of these staffs might end up leaving much to be desired on the defensive side of the ball.
  It's not just all quarterbacks and chucking the ball around up here. Somebody has to figure out a way to stop them. 
More news and notes from around the NFL:
Arizona Cardinals 

Any chance Bruce Arians plays things a little less aggressively in the NFC Championship Game after he nearly threw his team to a crushing loss last week? I don't think so, either. Loved the blitzing in the prevent situation, but throwing on second down is something he's got to move away from in the future. That risk-reward assessment in that situation points to running the ball and eating the clock.

Kansas City Chiefs 

Still can't figure out what the slow-down four-minute offense was from the Chiefs Saturday night. The Patriots were thrilled that the Chiefs ran the ball as little as they did and the fact the Chiefs held the ball for 38 minutes but couldn't score touchdowns. Most of that possession time came from dink-and-dunk passes from Alex Smith -- which is damning. That is the plateau for where a Smith-led offense can probably take you, in my humble opinion.

New England Patriots  

It may have been a different game in New England if Chiefs stud pass rusher Justin Houston was really able to go. His appearances were so sporadic due to injury and Tom Brady was never really uncomfortable after getting pummeled down the stretch. This ended up being a game where Sebastian Vollmer could ease his way back from injury as the Pats left tackle and there was just far too much time for Brady to operate. Kansas City's dominant pass rush fueled their season-saving run of 11 consecutive wins, but was suspect on Saturday.

San Diego Chargers 

I'm interested to see where Frank Reich lands. He's a strong offensive mind and several teams are inquiring about him. He'll help someone's offense soon enough.

Seattle Seahawks 

The Seahawks' inability to stop the run early and get any sustained pressure on Cam Newton did them in. Being down 31-0 is too much, even for them. That was a rather tepid way for Marshawn Lynch to end what was a stellar -- and never boring -- ride with the Seahawks.
Show Comments
Hide Comments
The Cowboys' draft picks since 2002 have been to 17 more Pro Bowls than the next closest t...

The Cardinals, however, don't sound enthused about his return

According to NFL Network's Michael Silver, the Browns might want to trade up to draft a franchise...
The projected top-20 pick could fall out of the draft with teams having little time to gather...

Bryant will have his progress reviewed again before the coming season

From Jadeveon Clowney to Odell Beckham, here's the option year prognosis for each 2014 first-round...