Isaiah Pead: 2012 season was a 'miserable life'
After a disappointing rookie season that he called 'miserable,' Rams running back Isaiah Pead is looking to rebound in 2013.
• 2 min read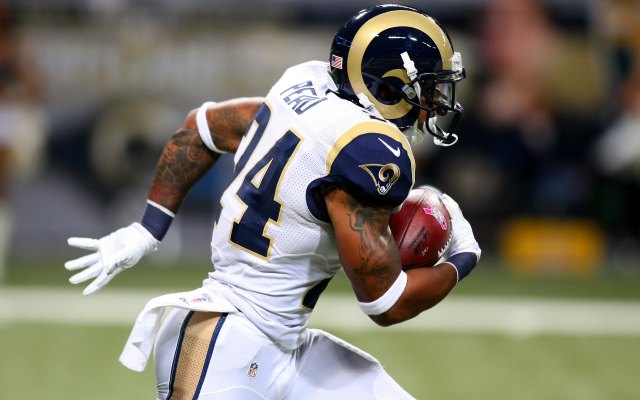 When the Rams selected Isaiah Pead in the second round of the 2012 NFL Draft, they must have believed they were securing the eventual replacement for workhorse running back Steven Jackson. Pead, then, must have been surprised by his (unimpressive) stat line from his rookie season.


 
Rushing
Receiving
 
G
GS
Att
Yds
TD
Lng
Rec
Yds
TD
Lng
Fmb
15
1
10
54
0
19
3
16
0
9
2
15
1
10
54
0
19
3
16
0
9
2

And even though Jackson has since signed as a free agent with the Falcons, Daryl Richardson is the one who was Jackson's backup last season -- and who probably is the early frontrunner to replace Jackson as St. Louis' top running back. After all, Richardson is the one who got more than nine times as many touches as Pead -- not bad considering Richardson was selected by St. Louis 202 picks after Pead in last year's draft.
All of it led to a 2012 season for Pead that he called miserable.
Here's the lead to friend-of-the-blog Paul Dehner's recent piece on Pead, which ran on the University of Cincinnati's official website.
In the darkest moments, Isaiah Pead sat inside his expansive house tucked in the suburbs of St. Louis and bounced a tennis ball against the wall. Alone.

He'd lay on his bed, staring at the ceiling, music playing, with the loneliness only matched by the frustration.

Pead left the Unviersity of Cincinnati known as much for an outgoing personality and contagious laugh as explosive cuts and game-breaking speed.

Yet, one year after being selected by the Rams as the second running back taken in the 2012 NFL draft, he's recovering from a rookie year spent buried as deep within his own mind as his third spot on the depth chart.

"Honestly, I would call it miserable," Pead said. "Miserable life. Miserable four-five months."
Pead said he was fed up with football and tired of the game he's played for so much of his life. He wasn't going to quit, but he also wasn't going to feel any sense of joy from fulfilling a dream of playing ball for big money.
So, what will be different this season for Pead? For one, his mind-set apparently is better after spending time away from St. Louis and his loneliness, and he's apparently been rejuvenated by friends and family in the offseason. He also goes to sleep earlier, wakes up earlier and stays away more often from fast food.
Pead says it's a new season, and he's a new man. And he'll probably get the chance to prove in the offseason and in training camp that he's as good as the Rams thought he was last season (Jeff Fisher said as much last month when he told reporters, "He's got a chance to make a lot of big plays for us").
But Richardson has proven he's a solid running back as well. For now, Pead isn't the clear-cut Jackson replacement. Basically, he's a guy looking to win a starting job.
Show Comments
Hide Comments
The Cleveland Browns quarterback has plenty of enthusiasm for his job

Rob Gronkowski's dreams are exactly what you imagine them to be

Cleveland brought in Ryan Grigson as a personnel executive
The former Bills GM says that he would make sure he gets a franchise quarterback

Sherman has engaged in some pretty cool jersey swaps over the years

Twerking is still outlawed under the NFL's new policy, which is bad news for Brown