Jacoby Jones admits being on party bus, denies Sweet Pea altercation
Baltimore Ravens wide receiver Jacoby Jones admitted to being on a party bus on Monday, however, he said he did not get into an altercation.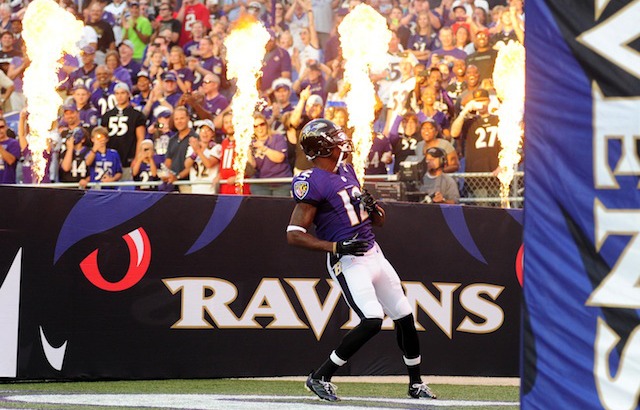 There's a new twist in the Jacoby Jones, party bus, Sweet Pea incident and the new twist is that one of the old twists didn't happen. Jones went on the record on Wednesday for the first time since Monday's incident and he confirmed one thing: he was definitely on Bryant McKinnie's party bus. 
However, Jones denied that he got into an altercation with a stripper named Sweet Pea, which means he also denies being hit over the head with an Ace of Spades bottle. TMZ.com reported on Monday that Jones was bleeding everywhere after Sweet Pea the stripper hit him over the head with a champagne bottle. 
"I'm going to take the responsibility that I was in the wrong place at the wrong time," Jones told WJZ-FM in Baltimore, via ESPN.com. "There was no altercation. There's nothing wrong. I did nothing wrong but I take responsibility for being in wrong place at the wrong time. Enough said. I apologize to my teammates and everybody." 
Sweet Pea confirmed Jones' story, saying on Twitter that she had a "verbal confronation with Jones and that was it!!!!"
Jones also said he's met with Ravens coach John Harbaugh since the incident happened early Monday morning. 
"We're good," Jones said. "We're fine. Everything is good."
Harbaugh talked about the incident on Monday, calling it 'nothing to be proud of.' However, even Harbaugh saw the humor in a story involving a party bus, a stripper named Sweet Pea and an Ace of Spades bottle. The Ravens coach celebrated his birthday on Monday and when a reporter asked Harbaugh if he'd be celebrating on a party bus, Harbaugh just laughed. 
It's probably safe to say Harbaugh's birthday celebration wasn't as exciting as McKinnie's.
Show Comments
Hide Comments
Our Latest Stories
It's not easy being an NFL head coach in the offseason

The Jets have been doing some serious housecleaning this week

Kyle Shanahan is already beefing up his defensive line
The former first-round pick has filed for an interesting trademark

Apparently, technology isn't always the answer

At least one member of the family can ski