Jaguars, Jacksonville announce $63M renovation for Everbank
The Jaguars and the city of Jacksonville announced a $63 million renovation plan for Everbank Field on Wednesday.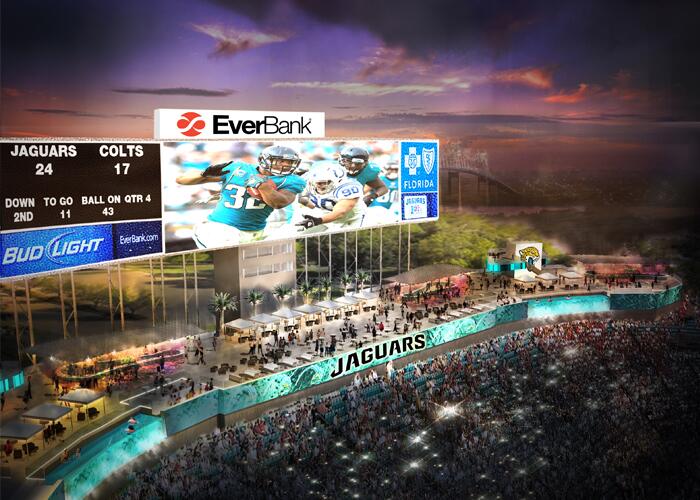 For whatever reason, there's been a whole lot of London-Jaguars talk this offseason. And it has made Jaguars fans quite salty. So how is owner Shad Khan and the Jaguars organization going to lift spirits of #DUVAL? How about by announcing a $63 million renovation plan for Everbank Field?
Yeah, that's a nice start. The Jaguars and -- quite importantly -- the city of Jacksonville announced on Tuesday the plan to, following the 2013 season, pump quite a bit of money into renovating Everbank and turning it into what Khan called "the best gameday experience on planet Earth."
That gameday experience will include the addition of several CABANAS and SWIMMING POOLS at the stadium -- which you can see in the photo above if you look at the concourse below the video board. So bring your bathing suit, but bring it in a clear bag of course or the NFL won't let it inside the stadium. 
That experience will also include the elimination of the dreaded "tarps" that covered seats at Everbank and gave rise to the incorrect notion that the Jaguars couldn't fill a football stadium.
Another note on the EverBank renvation: it will eliminate the tarps in the North End Zone. #Jaguars.

— John Oehser (@JohnOehser) June 19, 2013
This sort of investment in the city of Jacksonville -- and from the city of Jacksonville -- should begin to quash the notion that the Jaguars are destined to move to London.
It won't completely end the speculation, of course. When there's a semi-logical, somewhat tangential connection to be made, people are going to make it no matter how loudly it's shouted down. (See: Tebow, Timothy and Caldwell, David.)
People don't want to believe that the Khan family wants the Jaguars to stick around Jacksonville despite repeated positive proclamations about the city and the "loyal fans."
Thank you very much to all of the awesome @Jaguars fans for your very cool tweets. Today's a great day, & we're glad to repay our loyal fans

— Tony Khan (@TonyKhan) June 19, 2013
Owner Shad echoed Senior VP's Tony's statement on Twitter, calling the city "world-class" during his press conference.
"We're making a statement to the nation and world that Jacksonville is world-class," Khan said.
No amount of renovating can ever guarantee a team is locked into one place forever. But it's hard to see the Jaguars bolting any time soon given this level of commitment from the city and ownership.
Show Comments
Hide Comments
Our Latest Stories
Why haven't the Cowboys released Romo yet?

Jim Irsay wants his franchise QB at 100 percent, which could mean Luck missing start of training...

The long-time Cowboys star will stick around Dallas for four more years
The NFL is targeting April 17-21 for its big release of every 2017 NFL game

The Raiders aren't bolting Oakland immediately with their swanky new stadium years from co...

The marketing company Legends is raking in cash with teams bouncing to new stadiums