Jaguars officially name Chad Henne starting quarterback for Week 1
Despite a solid preseason from rookie Blake Bortles, the Jaguars are sticking to their guns. Coach Gus Bradley announced on Friday that Chad Henne will be the team's Week 1 starter.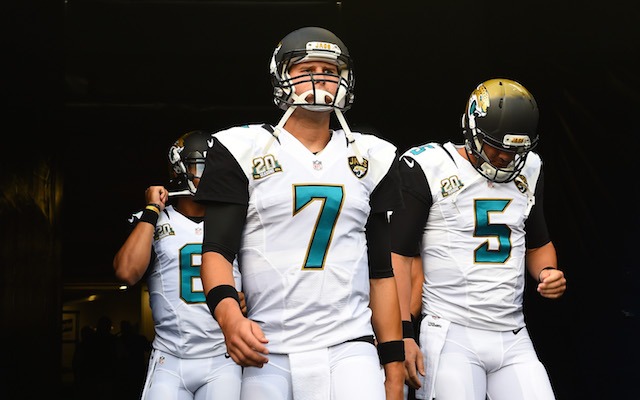 Jaguars coach Gus Bradley has insisted all summer that Chad Henne would be the team's Week 1 starting quarterback and on Friday night, he made that move official.
After Jacksonville's 13-12 loss to the Lions, Bradley announced that Henne would open the regular season as the starter despite a solid preseason from rookie Blake Bortles. 
"For our team, Chad's playing well, really well," Bradley said. "I think he's playing really fast right now. He's showed it all during training camp and during the preseason games, so we're really excited about him."
Henne went 9 of 14 for 70 yards against the Lions -- and also took a vicious hit from Ndamukong Suh. Through the first three weeks of the preseason, Henne is 25 of 38 for 230 yards and a touchdown. 
Bortles, the No. 3 overall pick in the 2014 NFL Draft, put up better numbers, but he put those numbers up playing against mostly second and third string defenses. Including Friday's game against Detroit, Bortles is 28 of 45 for 435 yards and a touchdown in the preseason.
"I think Blake is doing some good things," Bradley said. "I can not argue that. He's progressing just like we had hoped through this whole thing."
Bradley also added that Bortles just is 'not there yet.'
CBSSports.com senior NFL columnist Pete Prisco thinks the team should start Bortles. 
Play. The Kid.

— Pete Prisco (@PriscoCBS) August 23, 2014
The Jaguars are sticking to their guns though. General manager David Caldwell said in June that the team probably wouldn't let Bortles compete for the starting spot until 2015. 
Show Comments
Hide Comments
Brett Hundley was apparently on the block during Day 2 of the draft

The Bills fired their GM Sunday morning, then cleaned house

Get ready to start hearing a lot about Sam Darnold and Josh Rosen
College players who didn't get drafted are now free to sign with any team in the NFL

Benjamin has had weight issues going back to college

As one exec put it, 'We don't know what the hell they were doing'