Jaguars QB Blake Bortles still making case to start, throws 57-yard TD
Blake Bortles is going to make it as difficult as possible for the Jaguars to keep him on the bench.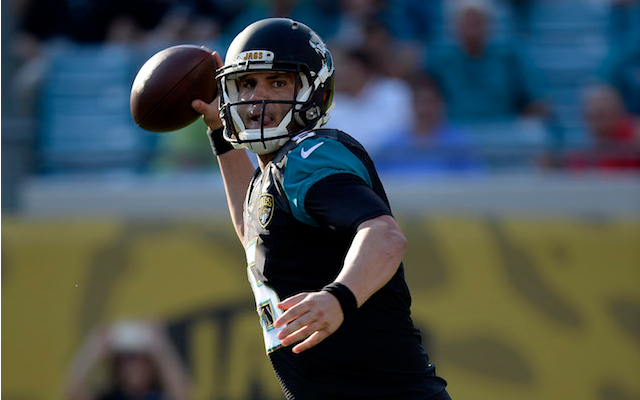 Jaguars coach Gus Bradley has already announced that Chad Henne will be the team's starting quarterback for Jacksonville's regular season opener against Philadelphia. However, we should note that Blake Bortles is doing everything in his power to make Bradley change his mind. 
In the Jaguars final preseason game on Thursday, Bortles threw a 57-yard touchdown pass to fellow rookie Marqise Lee.
BLAKE BORTLES BLAKE BORTLES BLAKE BORTLES http://t.co/ZuG2wCHScc

— SB Nation GIF (@SBNationGIF) August 28, 2014
Bortles was pulled from the game after the touchdown, meaning he finished his night 4 of 6 for 86 yards and a touchdown. Overall, Bortles finished the preseason with 521 yards passing and two touchdowns, along with zero interceptions. 
CBSSports.com Senior NFL writer Pete Prisco absolutely thinks the Jaguars should hand the offense over to Bortles. 
Play the kid

— Pete Prisco (@PriscoCBS) August 28, 2014
Play. The Kid.

— Pete Prisco (@PriscoCBS) August 23, 2014
Hey, Jacksonville. Play the Kid.

— Pete Prisco (@PriscoCBS) August 8, 2014
Show Comments
Hide Comments
Pryor worked out with Brown a couple years ago and now he's back at it again

The first-round QB from Clemson impresses Texans coaches with the way he's picking up the...

Dave Gettleman does not understand the DEFCON system
The Cowboys were big stars at Dirk's annual charity event

Floyd claims to have drank four or five bottles of kombucha tea, resulting in a failed alcohol...

Atlanta's new video board wraps around the length of the stadium and looks incredible