Jaguars turnaround can start with rookie GM Dave Caldwell
The Jaguars are in the process of crawling out of the NFL cellar, and first-time GM Dave Caldwell can be the man to lead them out, Jason La Canfora says.
• 5 min read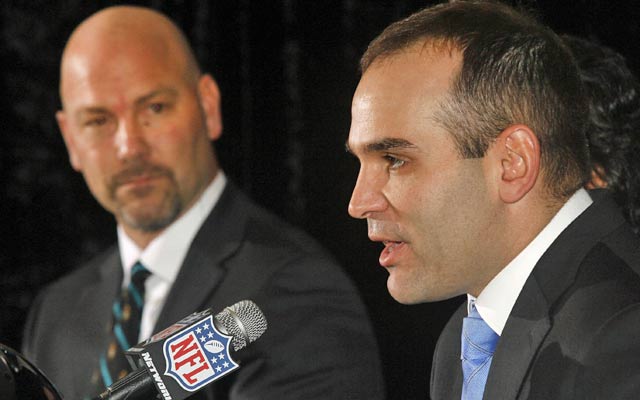 JACKSONVILLE, Fla. -- By the time the Jacksonville Jaguars completed their third preseason game Saturday night, general manager Dave Caldwell's night would only be beginning. His scouts were up against an 11 p.m. ET deadline to file their reports on the other 31 teams in the league, and given the depleted roster the rookie GM inherited, there is much work to be done. 
Caldwell's scouts, both pro and college, have been on the road rating the talent around the rest of the league, and by Sunday the Jaguars will finalize their boards ranking players of every other franchise ahead of the roster reductions coming in the next week -- first to 75 players on Wednesday and then 53 next Saturday. It's a process being duplicated more or less everywhere, but its value is distinctly keen here, with the Jags in need of quality and depth at pretty much every spot on the roster.
"Between now and the final cutdown, we'll be pretty busy," Caldwell said. 
Caldwell, 38, the product of proven mentors in Bill Polian and Thomas Dimitroff, did a good job of injecting some immediate speed and excitement to the roster in the draft, but there are undoubtedly players who will be cut elsewhere who could start or play regularly for the Jaguars. 
They will get the second crack at all waiver-eligible players let go, and, as Caldwell alertly pointed out, the team ahead of them in waiver order, Kansas City, plays a different system. Players who fit the Chiefs' schemes probably don't fit his. "So hopefully, we'll be getting first crack at a lot of the guys we like," he said from his office in EverBank Field before kickoff against the Eagles.
It all begins Saturday as those reports come in, and then the executives and scouts begin assembling their boards and preparing for potential matches through trades, waivers, or vested-veterans (who are released but not subject to waivers and thus become immediate free agents). All of the Jaguars' college scouts are assigned generally two to three NFL clubs in the preseason. The pro scouts take on a more. 
"Our scouts and pro department, everybody assigned teams to cover from the other 31 teams," Caldwell said. "And they'll come in and give us the idea of who we want to claim, who would be good practice squad candidates, all that stuff. And we'll go from there. Myself and the pro department will take a look at them and make sure, and we'll rank them and break it up by position and go from there. 
"As soon as they come across the waiver wire, we'll know. It's kind of like draft day -- a lot of the work is done before the draft starts, or before they hit the wire." 
I would anticipate Caldwell fully exploiting his waiver position and not being shy about claiming players. This team needs help on both sides of the ball, and, coming off a franchise-worst 2-14 season, in which they went just 1-7 at home, Caldwell's days will be long searching for upgrades.
"We understand the hand we were dealt," Caldwell said, "but we're not complaining, and we like our young guys."
For Caldwell, this is a valuable opportunity to get better, and, if he has his way, faster, as speed remains the preeminent quality he covets.
It was obvious in his first draft, with versatile offensive weapons a priority. Receiver/return specialist Ace Sanders, a fourth-round pick, has been one of the standouts from this camp, and in the fifth round the Jags selected Denard Robinson, a college quarterback at Michigan who can run the Wildcat and also work at receiver and running back. 
For a team lacking depth, multifaceted ability is huge, as a player like that can help fill gaps at multiple spots and flesh out the roster.
"We did look for that, even on defense, too," Caldwell said. "Any versatility you have when we have to get to 53 and then 46 for game day, it really helps us a lot."
From Polian, Caldwell understands the merits of old-school scouting and while with Dimitroff in Atlanta, he saw first-hand how a more modern approach works as well. Much has been made of the Jaguars' use of analytics and advanced statistics, but Caldwell isn't sure they are all that much different from many other organizations in that regard.
"In Atlanta we did a lot of it, similar things," Caldwell said, "and Thomas is very forward thinking and they have a great IT person who does a lot of it. I know Baltimore is big in it, too, but it's not as publicized. And for us there is value to it, and I think you use it to kind of erase any doubts you may have or any uncertainty, and also to shed some light on things you may have missed, that helps too.
Besides the ongoing preseason scouting, the Jaguars' analytics team is also running reports on player production for the other 31 teams, and Caldwell will compare that data. Certain times a player the scouts, for instance, may not like at all has popped up through the statistical analysis. And sometimes it's easily explained by looking at the tape and seeing all the success came against poor competition in the fourth quarter.
"And, sometimes, when the two match up, we have a good fit," Caldwell said.
During his 17 years in the NFL, Caldwell was with Polian's regimes in Carolina and Indianapolis and served under Dimitroff the past five years in Atlanta. He joined the Panthers as a scouting assistant in 1996 and has been a part of winning programs throughout his career. Polian ruled with more of an iron fist and could inspire fear in his facility, while Dimitroff is decidedly looser and the vibe in Atlanta is quite different. 
The feel here is more like the Falcons. Success, and failure will be shared. Smiles and enthusiasm abound. Being friendly and personable seems to matter. Egos are in short supply.
That will serve this franchise well, with long days and another very long season likely to come in Jacksonville, but better times ahead.
Show Comments
Hide Comments
The Cowboys' draft picks since 2002 have been to 17 more Pro Bowls than the next closest t...

The Cardinals, however, don't sound enthused about his return

According to NFL Network's Michael Silver, the Browns might want to trade up to draft a franchise...
The projected top-20 pick could fall out of the draft with teams having little time to gather...

Bryant will have his progress reviewed again before the coming season

From Jadeveon Clowney to Odell Beckham, here's the option year prognosis for each 2014 first-round...