Jameis Winston's reaction to the viral fat picture: 'I look good and I know it'
Jameis Winston was asked about a picture of him looking big and said "I look good and I know it."
INDIANAPOLIS -- Because the world is a weird place, we decided for a brief moment this past week that Jameis Winston was fat. A picture of him training emerged that made him look a little chunky and the Internet ran with it.
As it turns out he's not fat. He looks good. AND HE KNOWS IT.
Jameis' media session at the combine was pretty spectacular. He said he wants to compete not against Marcus Mariota but Peyton Manning and Tom Brady.
It was a polite way of saying Mariota isn't in the same stratosphere as Winston.
So to recap on the weight topic, here's Winston on Friday:
And here's Winston from earlier this month: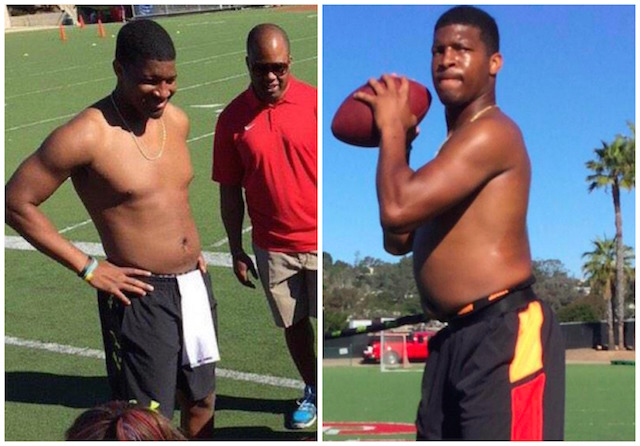 The next few months with Winston are going to be fun.
Pryor worked out with Brown a couple years ago and now he's back at it again

The first-round QB from Clemson impresses Texans coaches with the way he's picking up the...

Dave Gettleman does not understand the DEFCON system
The Cowboys were big stars at Dirk's annual charity event

Floyd claims to have drank four or five bottles of kombucha tea, resulting in a failed alcohol...

Atlanta's new video board wraps around the length of the stadium and looks incredible