James Gandolfini, 51, made NFL impact
James Gandolfini was a Jets fan, but he also played an important role in retelling the history of the Giants' Super Bowl title from 2007-08.
• 1 min read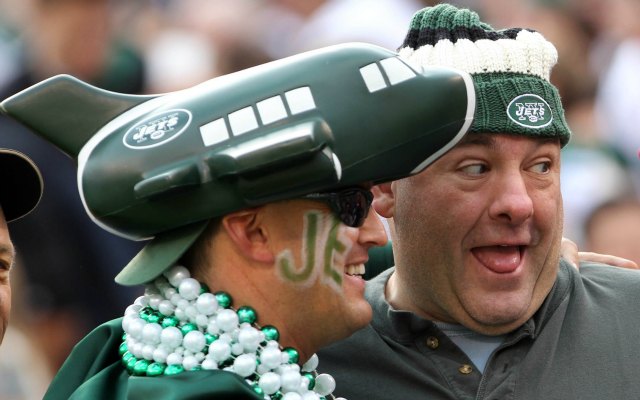 James Gandolfini died Wednesday at the age of 51, and clearly, he had a voice in the NFL.
Literally. The Sopranos star voiced the NFL Films America's Game production that chronicled the Giants Super Bowl run in 2007-08. As seen in the picture above, Gandolfini was a Jets supporter, and after the news of Gandolfini's death broke, the team sent its condolences on Twitter.


We're deeply saddened to hear about the passing of our friend James Gandolfini. Our thoughts and prayers are with his family & friends.

— New York Jets (@nyjets) June 20, 2013


But even though the New Jersey native is on record from a 2004 interview saying he was a Jets fan instead of a Giants supporter, Gandolfini still got the opportunity to voice the Giants documentary after their Super Bowl win against the undefeated Patriots.
In part, you can hear him below:



And in a humorous story, Giants quarterback Eli Manning, ever the prankster, got one past Gandolfini.
Let famed TV critic Alan Sepinwall explain:
While discussing the second half of the playoff game against the Cowboys, Eli says that whenever the Giants' defense was out on the field, he made sure to park himself in a certain spot on the bench, and to watch the action on a scoreboard screen instead of looking at the field, and the more he did that, the harder the defense seemed to hit Tony Romo.

"I'm not superstitious," Eli tells the camera, "but I am a little 'stitious. I know that's not a real word, but it's my own little saying."

In fact, it's not Eli's saying. It's Michael Scott's, from the fourth season premiere of "The Office." But the NFL Films producers, and narrator James Gandolfini, apparently didn't realize this, and so later in the episode, Gandolfini repeats the line with all the gravity of John Facenda referring to the frozen tundra of Lambeau Field.

It's one of the sneakier laughs in the very funny, very inspiring (though not so much if you're a Pats fan) episode of the show.
Either way, Gandolfini's words (and his acting skill) will be a voice many millions of people (and NFL fans) will forever miss.
Show Comments
Hide Comments
Our Latest Stories
The Jaguars quarterback might not be the Jaguars quarterback much longer

The NFL quietly finalized the draft punishment for two different scandals on Friday

The Cardinals receiver isn't happy about playing an extra preseason game
Twenty-nine coaches will be available to the media in Indy, but these three won't

The NFL announced on Friday that 32 compensatory draft picks have been awarded to 16 teams

Was it Lady Gaga's fault the Falcons lost Super Bowl LI?