Jason Garrett: Dez Bryant 'needs to stay on the field'
A day after Dez Bryant headed for the locker room before Sunday's game ended, Cowboys coach Jason Garrett said he would address the issue with his star wide receiver.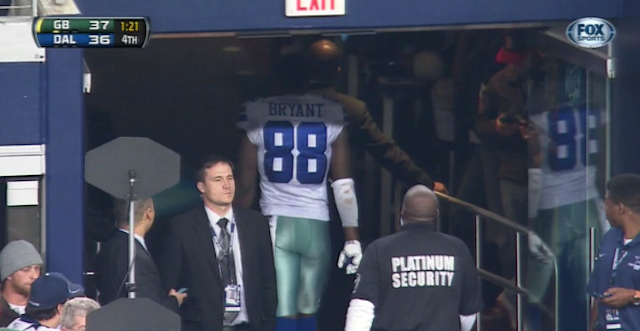 Dez Bryant didn't need to hang around for the final whistle to know that the Cowboys were going to lose to the Packers. So with 1:21 left in the fourth quarter, he headed to the locker room. Not surprisingly, it didn't go over well with fans and media, who spent much of Sunday evening calling Bryant out.
Shortly after the game, Bryant tried to explain himself.
I walked back to the locker room because I was emotional...it had nothing to do with my teammates we had it... We fought and didn't finish

— Dez Bryant (@DezBryant) December 16, 2013
By Monday, Bryant had apologized.
"I was wrong," he told reporters. "It didn't have anything to do with my teammates. I just ... I couldn't watch Green Bay kneel the ball down on the field after a tough loss like that. I was very emotional. I cried when I got into the locker room. I didn't want to show that stuff on the sideline."
Works for us, although we also understand the whole "being a good teammate" thing involves sucking it up when things go poorly.
"We'll address that with Dez today," Garrett told 105.3 The Fan Dallas-Fort Worth. "I understand why to a certain extent, they're kneeling the ball, the game essentially is over, he's an emotional guy, we're all very emotional about what we do. But he needs to stay out on the field and I'll address that with him today. And just explain why it's important to do that and he'll understand."
Garrett, like quarterback Tony Romo previously, described Bryant as "one of the great team guys I've ever been around." Adding: "He loves his teammates, he loves this team, has a great passion for winning. You have to understand how to handle yourself in those situations. He'll learn from this situation."
The bigger question, at least from the perspective of Week 15, is whether the Cowboys have learned enough to backdoor their way into the playoffs. Sunday's effort against the Packers suggests otherwise.
Show Comments
Hide Comments
Jones provided Cowboys tickets and travel accommodations to officers and their families

Romo played DJ at a charity event and got Ezekiel Elliott on stage for 'O.P.P.'

Kaepernick has spent much of his offseason helping others and now supporters will return the...
Beast Mode led a bicycle parade through his hometown and apparently didn't even have to pe...

The NFL won't punish Revis, who remains on the market as a free agent

The NFL is playing the long game on L.A., but it's taking a serious hit in the short term