Jason Pierre-Paul undergoes another surgery on his mangled hand
Pierre-Paul lost the ability to grip and got a surgery to help with that.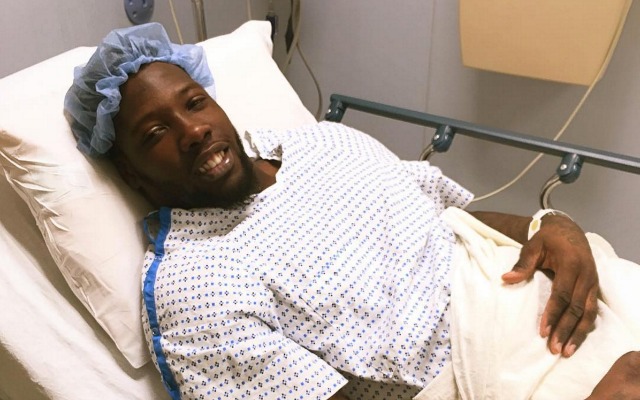 Last summer, New York Giants defensive end Jason Pierre-Paul messed around with some fireworks and suffered a serious injury to his hand. The injury necessitated surgery that included the amputation of at least one finger and portions of others. He subsequently missed the first eight weeks of the season before returning in Week 9 and recording 26 tackles and one sack the rest of the way.
He wore a special club on that injured hand because of how it was mangled, and it obviously affected his ability to play. He couldn't use that hand to grip, which is extremely important for a defensive end when playing the run, in prticular, and also when trying to rip through on pass rush moves. 
So now that the season is over, Pierre-Paul had another surgery, which was concentrated on his grip. Here are some details, via the New York Post.
The surgery was performed by the Giants' hand specialist, Dr. Robert Hotchkiss, at the Hospital for Special Surgery. This is significant, as Pierre-Paul's previous surgeries were in South Florida, without the Giants having any input.

The surgery, Pierre-Paul explained in late December, would concentrate on his right middle finger, which was turned into a bloated, oversized and largely unusable digit as a result of the July 4 fireworks accident that did permanent damage to his right hand. Pierre-Paul in the summer had to have his right index finger amputated — including the knuckle — and all that remained of his right thumb was a short stump. He missed the first eight games and wore a bulky, oven mitt-type club wrap on his right hand the final eight games of the season.
"The surgery is definitely going to help me a lot,'' Pierre-Paul said on Dec. 30. "I can't grip out of my middle finger, it can't close right now. That's the reason why I'm in the club. Once I have my surgery I'll be fine. I'm excited to actually get it done. Something I knew I had to get done at the end of the season.''
JPP also posted a picture on Instagram of himself going into the surgery.
The full caption there reads as follows:
Lord I absolutely believe you have the power to heal. You demonstrated that on earth and through me already, and you still heal in miraculous ways for me and many others. Even when my faith is weak, you say it is enough, and my love for you is strong. And I know you already hold my heart and life in your hands. It's up to you. If I can bring you more glory through healing, then that's what I ask for.#90powerCircle #SurgeryDay#ImSoReady #JustTheBeginning
Show Comments
Hide Comments
Our Latest Stories
The Texans' sackmaster appeared to have recovered from offseason surgery and didn't miss a...

Long snapper Kameron Canaday is a free agent after his latest mistake

The Patriots have one more game to endure without Tom Brady
Donald Trump told Colin Kaepernick to leave the country a month ago

The Browns also can't wait on DeShone Kizer, taking the Notre Dame QB at No. 1

Bell will play in his first game after serving his three-game suspension