Jay Cutler injured for Bears, Josh McCown at quarterback
Jay Cutler suffered an injury for the Bears on Sunday and Josh McCown entered the game at quarterback.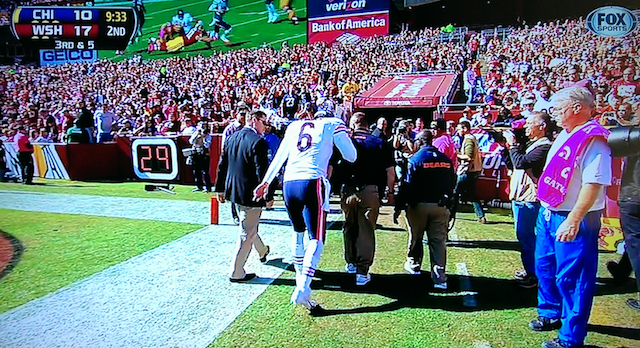 The Bears had their worst nightmare unfold Sunday as quarterback Jay Cutler suffered an injury against the Redskins. Chicago announced the injury as a groin injury and Cutler has been ruled out for the remainder of the game.
LM: #Bears QB Jay Cutler will not return in the second half of today's game.

— Chicago Bears (@ChicagoBears) October 20, 2013
Cutler was taken down for a sack by Chris Baker -- on that play he actually became the most-sacked Bears quarterback of all time having been taken down 158 times -- and rolled over awkwardly. He appeared to grab his hip and remained on the ground for a long time.
Josh McCown began warming up on the sidelines while Cutler was getting up off the ground. Cutler limped to the sideline and appeared to be holding his hip. 
As Cutler -- and a slew of medical trainers -- moved slowly to the locker room, McCown entered the game for Chicago.
We'll keep you updated as we know more about Cutler's injury. Anything serious would be a major blow to a quarterback who was having arguably the best year of his career so far.
Show Comments
Hide Comments
Our Latest Stories
Not every rule proposal was approved at the league's annual meeting

The former Bears quarterback let Kristin Cavallari take a revealing vacation photo

Titans coach Mike Mularkey is encouraged by Marcus Mariota's recovery from last year's broken...
Councilman Larry Reid wants the team gone now

Get ready for controversy with targeting ejections coming to the NFL

In a Texas-sized game of chicken, who blinks first in the Romo saga: Jerry Jones or Bob Mc...