Jeremy Maclin and Justin Houston are game-time decisions vs. Patriots
KC's best offensive weapon and best pass rusher may or may not be available for the biggest game of their season.
The New England Patriots are famously secretive when it comes to injuries. Bill Belichick basically gives no more information than is absolutely necessary. The Kansas City Chiefs: not quite as stingy with the info.
Don't believe me? Take a look at this sequence from head coach Andy Reid's Thursday press conference, per the Chiefs' official web site:
OPENING STATEMENT: "Alright, so let's talk about injuries here. (Laurent Duvernay-) Tardif did not practice today, has not passed the protocol for concussion, nor has Mitch (Morse). Tamba (Hali) did not practice today – again, he's got a little bit of swelling in his knee. (Jeremy) Maclin came out and did a little bit during the stretch period and that was about it. And then Justin Houston went through the warmups and is making progress.

I look forward to the challenge of playing New England. The guys had a good week of practice. We were able to get outside here a couple of days, which is unusual for this time of year, I thought that was a good thing. And now we have an opportunity to play the world champions, that's a great thing. Time's yours."

Q: Did you get a report on how Jeremy Maclin or Justin Houston felt?

REID: "Yeah, they did okay for what they did. And then we took them in and look at the next day."

Q: Neither Maclin nor Houston were in the team periods?

REID: "Neither in the team periods."

Q: Game-time decision for both?

REID: "Yep."
See? That's a lot of information! We learned that both Jeremy Maclin, who suffered what at the time looked like a serious knee injury but turned out to just be a "mild" high ankle sprain, and Justin Houston, who sat out a few weeks at the end of the regular season before returning for the playoff opener against the Texans, will be game-time decisions for Saturday agains the Pats.
Maclin, if he plays, will likely see a whole lot of Patriots corner Malcolm Butler, who shadowed the opposing team's No. 1 receiver pretty often this season. Butler acquitted himself nicely in most of those matchups, using his length to break up passes and get physical with the top option in the opposing passing game.
Houston, meanwhile, has a potentially huge role to play. As we explored in our Key Matchups post on this game, a great deal of Kansas City's success Saturday could depend on whether or not they are able to get pressure and hits on Tom Brady before he can deliver the ball. Houston is the Chiefs' best pass rusher, so they need him out there on the field.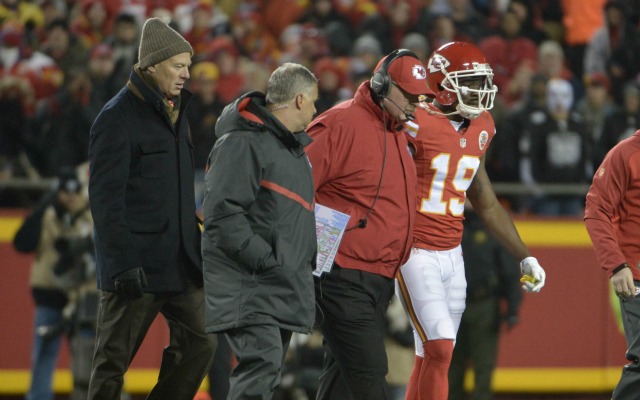 Show Comments
Hide Comments
Our Latest Stories
The Texans' sackmaster appeared to have recovered from offseason surgery and didn't miss a...

Long snapper Kameron Canaday is a free agent after his latest mistake

The Patriots have one more game to endure without Tom Brady
Donald Trump told Colin Kaepernick to leave the country a month ago

The Browns also can't wait on DeShone Kizer, taking the Notre Dame QB at No. 1

Bell will play in his first game after serving his three-game suspension