Jerry Jones on Dez Bryant: We need to get him the ball more
As Dallas goes into its bye week, Cowboys owner Jerry Jones thinks the team needs to work on getting Dez Bryant the ball more.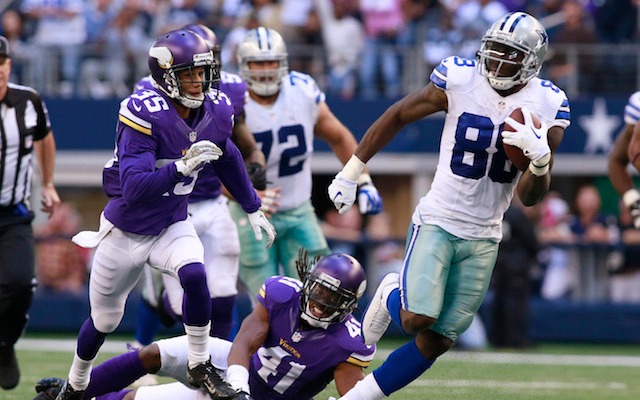 Dez Bryant isn't the only person in Dallas who thinks Dez Bryant should get the ball more. Cowboys owner Jerry Jones thinks Bryant should get the ball more too. During an interview this week, Jones said that's one of the things Dallas will work on during its bye week. 
"We need to get him the ball more," Jones told 103.5 The Fan. "I think that's the kind of thing that's a reasonable thing that you can adjust over a two-week period that we're going into with our bye week. How do we work to get him the ball more."
Bryant had one catch for 44 yards in the Cowboys 49-17 loss to the Saints on Sunday and he was only targeted twice in the entire game. It was the fewest passes thrown Bryant's way all season.
Unless the Cowboys start throwing to Bryant on every down though, it's hard to see how he can get the ball a lot more. 
Before the Saints game, Bryant had been targeted at least six times in every Cowboys game this season. In four games this year, Bryant was targeted over 10 times, including a Week 7 win over Philadelphia where Bryant was targeted a season-high 17 times.
Overall, Tony Romo has targeted Bryant 90 times on the season, a number that ranks eighth in the NFL, meaning only seven receivers have been targeted more.
Through 10 games, Bryant has 52 catches for 749 yards and eight touchdowns. Those stats are actually a shade better than Bryant's 57 catches for 735 yards and four touchdowns through 10 games last season.
If Romo ends up throwing every single one of his passes to Bryant after the bye, at least now you'll know where the order came from.
Show Comments
Hide Comments
This much is certain: The Browns desperately need a quarterback

The man who signed Romo is happy to see him move on from playing the game

Roger Goodell typically announces all the first-round picks, but he'll make an exception this...
NFL teams find out their schedule on the same day you do

There probably weren't too many complaints in Kansas City after the schedule was released

Glen Coffee is hoping to make an improbable NFL comeback