Jets cut six players, including WR Jacoby Ford and CB Ras-I Dowling
The Jets trimmed their roster down to 75 on Sunday by cutting six players, including Jacoby Ford and Ras-I Dowling.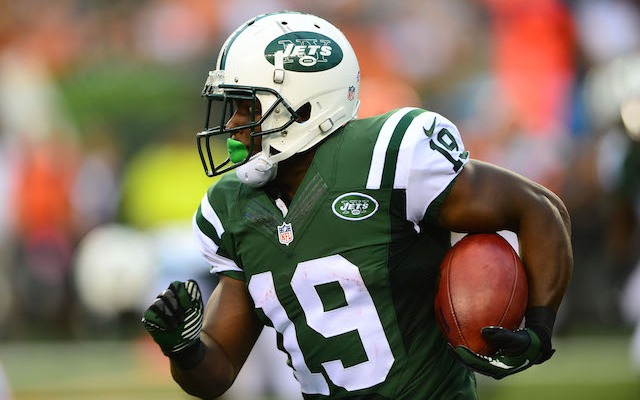 The New York Jets had until Tuesday at 4 p.m. ET to get their roster down to 75 players, but they decided to beat the deadline. The team announced six cuts on Sunday, trimming the roster down from 81 to 75 players. 
Former Oakland Raiders wide receiver Jacoby Ford was among the Jets cuts. Ford has totaled 848 yards receiving since Oakland drafted him in 2010, but he was unable to latch on in New York. In three preseason games with the Jets, Ford caught three passes for 19 yards. 
The Jets also released former New England Patriots second round pick  Ras-I Dowling . Dowling was signed to the Jets practice squad in October, but he didn't get much opportunity this preseason. Dowling only played a total of six snaps in the Jets first three preseason games. 
Here's the complete list of players who were cut on Sunday: DE Alejandro Villanueva.TE Colin Anderson , WR Mike Campbell, CB Ras-I Dowling, WR Jacoby Ford, DE Anthony Grady , and FB Chad Young .
The Jets also cut seven players on Saturday when they let go of RB Michael Smith , OL Bruce Campbell , OL Patrick Ford , OL Markus Zusevics  LB Steele Divitto  K Andrew Furney and P  Jacob Schum .
Show Comments
Hide Comments
The Bengals are setting a sky-high asking price for their backup quarterback

Jones tore his Achilles tendon during Washington's pro day in March

Plus, actors, players, service members, and more will announce picks from other locations
Watson and Trubisky are considered two of the draft's top QB prospects

The former Patriots running back has been sitting on the open market all offseason

Maccagnan's family friends were killed in a domestic violence murder-suicide several years...