Jets fan wins auction for Mark Sanchez 'butt-fumble' jersey ($820)
A Jets fan in California won the ultimate piece of 'butt-fumble' memorabilia with an $820 auction bid.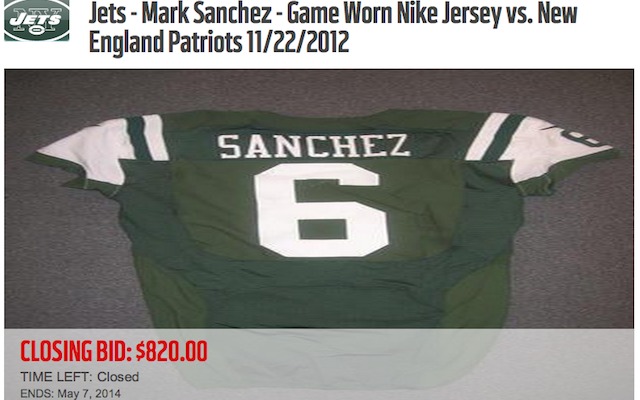 Apparently, Mark Sanchez decided not to keep one of the most infamous pieces of butt-fumble history: his jersey.
The jersey Sanchez wore on the night of the infamous play was auctioned off by the NFL this month and Jake Hendrickson -- a Jets fan who obviously recognizes history when he sees it -- won Sanchez's No. 6 Jets jersey with an $820 bid. 
The jersey probably could've gone for millions, but the description of the jersey on the NFL's auction website didn't mention the Butt-Fumble. 
From NFLAuction.com: 
Game worn jersey of former University of Southern California Trojan and former New York Jets quarterback #6 Mark Sanchez from the Thanksgiving Night Game vs. the New England Patriots on November 22, 2012. Sanchez threw for 301 yards and a touchdown while wearing this jersey. All proceeds from this item will benefit the Alliance for Lupus Research. Their mission is to prevent, treat and cure lupus through medical research.
Money for lupus research? The butt-fumble really is the gift that keeps on giving.
Although the butt-fumble wasn't mentioned in the description, Hendrickson told Yahoo Sports that as soon as he noticed it was the infamous jersey, he had to have it. 
"The second I realized what it was I knew I had to have it. Almost for macabre reasons; the amount of ridicule I have received from friends regarding that play and me being a diehard Jets fan out in California especially," Hendrickson said. "There's no way I could let it get in the hands of an anti-fan or something of that manner to be shoved in our face."
Apparently Hendrickson wasn't the only fan who wanted this piece of butt-fumble history. During the six day auction, several fans -- including Hendrickson -- placed at least three bids on the jersey. 
The first bid came in at $176, then things got intense. 
"The auction itself had like five days left on it before it closed so basically I set an alarm on my calendar to remind me an hour before so I could be at my computer," Hendrickson said. "I was prepared for an all-out bidding war. There were a couple other people I was bidding against but it being the offseason I don't think there were many people looking for football memorabilia so it didn't go nearly as high as I had anticipated. Plus every time someone would outbid me by $5 or $10 I was raising by a hundred bucks just to show I meant business."
So what's Hendrickson going to do with the butt-fumble jersey?
"For now I'll probably just frame it up real nice and put it on my wall," Hendrickson said. "Until we win a Super Bowl or I can get together enough money to put it on a rocket ship and shoot it to outer space because I don't think it belongs on this planet anymore." 
So basically, the jersey will be up on his wall forever. 
Show Comments
Hide Comments
Our Latest Stories
The Vikings said they knew Murray would have the procedure before they signed him

Plus, two USC prospects tackle agility drills and two small-schoolers look to make their m...

The Steelers signed Brown to a record contract this offseason
Let the annual Brett Favre comeback rumors begin!

Jones' attorney says he plans to plead not guilty to three misdemeanor charges

It might involve a more centralized replay system and a play clock after extra points