Jets produce hype video for rivalry game vs. Patriots, spell rivalry wrong
Spelling rivalry isn't as easy as you might think.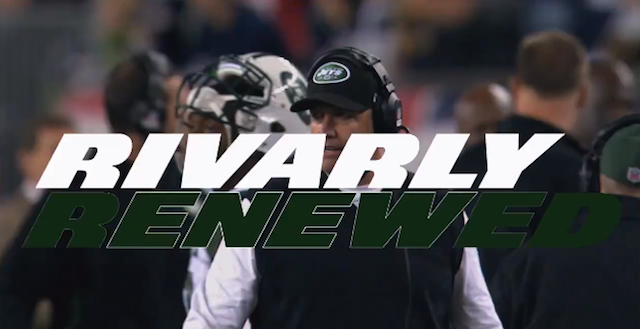 The Jets are pretty excited about their Thursday night game against New England and we know they're excited because they made a 72-second hype video telling us how excited they are about the team's rivalry with the Patriots.
As you can see at the top of the page though, someone in the proofing department got a little too excited. For the record, 'rivarly' isn't actually a word. But it could be one now if we want it to be. Maybe it could be a synonym buttfumble?
Anyway, the Jets eventually noticed the mistake and they actually had a sense of humor about it. 
No matter how you spell it, it's still a big RIVALRY #NYJvsNE- http://t.co/mOlBtnsiIk https://t.co/8xRwohqHHL

— New York Jets (@nyjets) October 16, 2014
Speaking of the buttfumble though, the Jets might not have a sense of humor about the fact that the Patriots tweeted out a picture of that game for Throwback Thursday.  
#TBT to another #Patriots-Jets Thursday night game: pic.twitter.com/MRYi4bdqDa

— New England Patriots (@Patriots) October 16, 2014
With all this trash-talking, this figures to be a hot 'rivarly' game, so make sure to turn your television to CBS by 8:25 p.m. ET on Thursday to catch the kickoff.
You can read CBSSports.com's preview of the game here. 
Sherman thinks that all quarterbacks on all NFL teams get treated better than anybody else

The Patriots coach looks pretty cool on the 15th anniversary cover of Nantucket magazine

Taco Bueno has been angling for a deal with Charlton ever since he was drafted
Jeff Garcia, Jimmy Clausen and Justin Forsett explain their involvement in American Flag Football...

The Panthers added more playmakers to take some of the pressure off Newton this season

Young has been out of the NFL a while but still feels slighted when other quarterbacks get...