Jim Harbaugh: 2014 will be 'breakout year' for 49ers QB Colin Kaepernick
49ers coach Jim Harbaugh is expecting a breakout year from his bionic-looking quarterback Colin Kaepernick.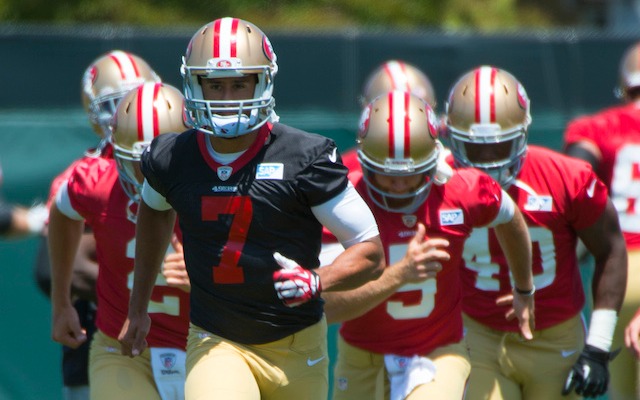 More NFL offseason: League minicamp dates | Latest news, notes
All Colin Kaepernick did in 2013 was lead the 49ers to a 12-4 record and the NFC title game -- that's good, but coach Jim Harbaugh is expecting more from his 26-year-old quarterback next season.
"I really expect a real breakout year for Colin," Harbaugh said on Wednesday, via the 49ers official website. "Athletically, he looks bionic. If you all remember the 'Six Million Dollar Man,' that's what he looks like to me."
The 'Six Million Dollar Man' was a 1970's TV series and it's kind of ironic that Harbaugh mentioned it because the 49ers would love if Kaepernick signed an extension for $6 million a year.
Right now, Kaepernick is the $5 million man -- that's what his rookie contract is worth -- but he'll likely be the $20 million man after negotiations with the 49ers are finished.
When Kaepernick eventually signs an extension with the team, it sounds like Harbaugh is very confident the money will be well spent. 
"He's very gifted and he always has been. He has the look and feel of a guy who's really going to break out -- even more so than he already has," Harbaugh said. "I'm really excited about everything about his game right now."
Kaepernick threw for 3,197 yards and 21 touchdowns last season and he did that despite the fact that Michael Crabtree missed most of the year.
A healthy Crabtree, plus the additions of Stevie Johnson and Brandon Lloyd, have Harbaugh and Kaepernick believing the 49ers have an intimidating arsenal of receivers. 
"Kap said it the other day. He feels like he has a stable of receivers and maybe that's the first time we've said that since we've all been here together," Harbaugh said. "I concur. It feels that way. I feel like we have a lot of firepower in our corner. I feel like we have a lot of ammunition in our camp. I was just thinking about it the other day, 'It doesn't get better than this.'"
The 49ers also have Anquan Boldin and Vernon Davis. That duo combined to catch 20 of Kaepernick's 21 touchdown passes in 2013. 
Show Comments
Hide Comments
Both teams blasted the reports of a potential Kirk Cousins deal during Round 1 of the draf...

After an unpredictable Round 1, here are some predictions you can bank on for Rounds 2 and...

Receivers surprise in the top 10, Alabama goes MIA in the top 15 and more 2017 NFL Draft t...
Florida State RB Dalvin Cook will kick off Day 2 of the draft

There were a lot of good moves made during the first day of the 2017 NFL Draft

It seems that fans in Chicago feel like the Bears may have gotten ripped off