Jim Harbaugh on 49ers LB Aldon Smith: 'We can help someone'
49ers coach Jim Harbaugh opened up about linebacker Aldon Smith on Friday.
• 2 min read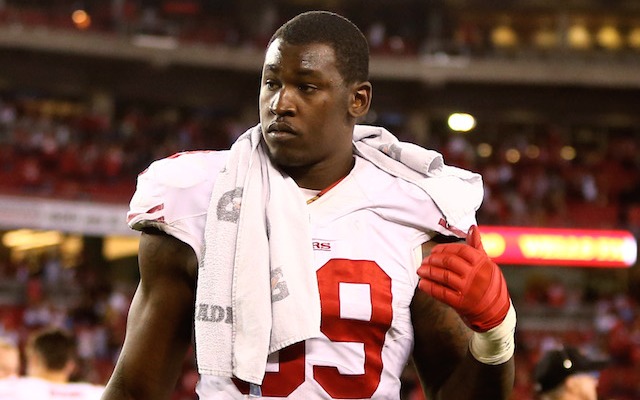 More NFL offseason: League minicamp dates | Latest news, notes
As we await the NFL's decision-makers to see if they'll punish 49ers linebacker Aldon Smith -- who despite his recent assurances that he's a good guy pleaded no contest to weapons and DUI charges -- San Francisco coach Jim Harbaugh hasn't been pleased whenever he's been asked about Smith.
Need proof: check out this exchange from last week between Harbaugh and San Jose Mercury News columnist Tim Kawakami.
Yet, during a radio appearance on KNBR on Friday morning, via CSN Bay Area, Harbaugh expanded on his feelings about Smith and his latest legal issues.
"I want you to know where I stand, and that's due process," Harbaugh said. "And [an]other place I stand is that I can help someone, we can help someone."
As for how Smith is feeling, Harbaugh said, "He's doing well. He's showing up. He's working hard. He's listening and he has the opportunity to do what he says he's going to do. That's what we're all very hopeful for."
Harbaugh's words shouldn't be a huge surprise. After all, the team picked up his fifth-year option for the 2015 season, and general manager Trent Baalke has been supportive publicly of Smith.
Meanwhile, Smith is scheduled to be sentenced on July 25, two days after the 49ers report to training camp. Smith faces between zero and 52 months of prison time.
"If someone comes to us and asks for help, I don't want to ever say, 'I can't help you.' We'll help somebody or find somebody who can, and that includes working with the players -- working with a player like Aldon and others," Harbaugh said.
"And I believe some changes ought to be made, some of those changes need to be made at the top. I'm not at the top-top. But I'm at or near the top, and I'll do anything it takes to get something done or improve something or get better at something."
Later, Harbaugh clarified that he was talking about how he -- and not the front office -- needed to change.
Said Smith this week: "I'm a good person, and the people who know me know I'm a good person. Maybe after this is over, you can tell your friends I'm a good person. Anybody who hangs around me can tell that. A lot of these things are being painted in a picture that's not true."
Show Comments
Hide Comments
NFL teams find out their schedule on the same day you do

There probably weren't too many complaints in Kansas City after the schedule was released

Glen Coffee is hoping to make an improbable NFL comeback
Geography can be hard sometimes

Hernandez appears to have left suicide notes for at least three different people

Beast Mode and the Raiders apparently don't see eye to eye on this one thing