J.J. Watt's apology fuels a 29-second video by Arnold Schwarzenegger
Arnold and Watt have a friendship that goes back to last summer, when J.J. busted out his best Schwarzenegger impression.
The Houston Texans were blown out 30-0 by the Kansas City Chiefs on Saturday. Star Texans defensive lineman J.J. Watt was mostly a non-factor while he was on the field, and he suffered a groin injury in the third quarter and didn't return.
After the game, Watt sent the following tweet apologizing to Texans fans.
I am sorry. Thank you for your support all year.

— JJ Watt (@JJWatt) January 10, 2016
One of the responses to Watt's tweet came from the Terminator himself, Arnold Schwarzenegger.
.@JJWatt Get up. You'll be a champion next year. pic.twitter.com/d5Z9j8qpBx

— Arnold (@Schwarzenegger) January 10, 2016
Here's his message transcribed:
Hey, J.J. You and the Texans are fantastic! Just remember one thing: You didn't lose today. And I'll tell you why. Because losers stay down. And I know you and the Texans, you always get up. That's why you're winners and you always will be winners. So get going again, get up, put some fire under this team, and march forward. Hasta la vista, baby.
Those are certainly some awful nice things for Arnold to say to young Mr. Watt and his teammates. This is, of course, not the first interaction between Watt and Arnold. Last summer, J.J. unveiled his Schwarzenegger impression, and it ... wasn't bad! Arnold then invited Watt to a screening of Terminator Genisys. Nice to see their friendship has extended through the season.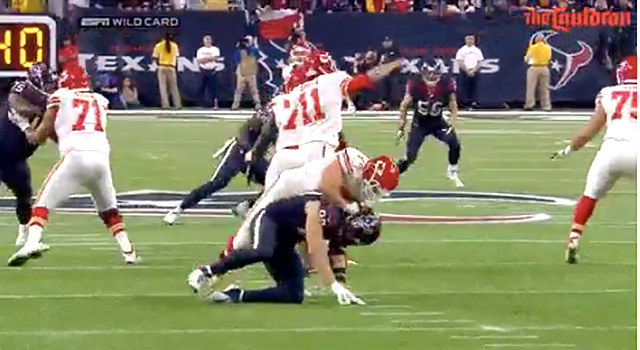 Show Comments
Hide Comments
Our Latest Stories
The Browns quarterback took to Twitter to discuss his personal life

Broncos GM John Elway doesn't sound like he has any regrets about letting Brock Osweiler get...

The Division-III left tackle transfer is quickly proving he has a future in the NFL
Clay Matthews and Morgan Burnett join Sam Shields as out, while two others are now doubtfu...

The former NFL wide receiver has some strong opinions on the commissioner

Gurley rushed for 1,106 yards as a rookie, now he's averaging 2.7 yards per carry