Joe Philbin: 'I am the one who is responsible' for Dolphins workplace
Joe Philbin claimed responsibility at the 2014 NFL Combine while also managing to not claim responsibility.
More Draft: NFL Mock Drafts | Big Board | NFL Combine news and updates
INDIANAPOLIS -- Joe Philbin kicked off the 2014 NFL Combine by speaking with the media first thing on Thursday morning and the coach, while ducking several questions about the future of players and of himself, took responsibility for the nightmare situation in Miami.
The report released by Ted Wells on the incidents surrounding Richie Incognito and Jonathan Martin cast a dark light on the Dolphins locker room and while Philbin got no blame in the report, he took responsibility at the combine.
"I want everybody to know I am the one who is responsible for the workplace environment at the Miami Dolphins facility," Philbin said. "I'm the one that sets the schedule. I decide when the practices are. I decide what time players eat, how they meet, when they leave, everything they do at the facility."
Claiming responsibility and taking responsibility are two different things, though. Philbin did the first but wasn't willing to fall on the sword for the real problems.
Asked about making Incognito a leader (Incognito was on the Dolphins leadership council), Philbin denied any knowledge.
"I didn't necessarily make him a leader," Philbin said. "The leadership council we have in place -- the process is the players elect the players they want to be on the leadership council. I respect the process and that's how the votes came in."
See, that's a problem. Philbin's ducking the culpability behind Incognito's place as a leader by basically saying the players made the decision. That's a massive red flag, right? It's one thing to "respect the process" or whatever. It's a whole different ballgame to not have the, ahem, fortitude to look at an obvious nightmare situation and make changes.
Philbin, if you believe what he said at the combine, never knew about the things going on between Incognito and Martin either. So what would he do differently? Well he "would hope" he'd notice what was going on the next time. 
"I don't have the benefit of looking back. I would hope that I would've noticed some of these things," Philbin said. "If I had heard this type of language or these type of acts being done I would intervened immediately. There's a common decency that people need to have toward one another. And when that gets violated that's an issue.
"I certainly wish I'd seen some of it."
Coulda, shoulda, etc. For now Philbin keeps his job and, when asked about whether he was concerned about his future employment, he simply referred questions to owner Stephen Ross. 
Philbin did promise, however, to create "a better workplace."
"We're going to look at every avenue," Philbin said. "We're going to uncover every stone and we're going to have a better workplace. I promise you that. I'm going to make sure that happens."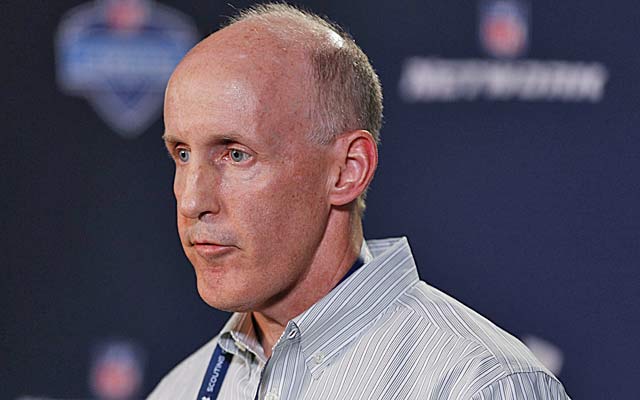 Show Comments
Hide Comments
The Notre Dame coach clarifies his earlier comments about his former quarterback

The Cowboys owner says he's better now than ever

Sometimes it's hard to figure out what the Bills are doing
Peterson would join a formidable backfield that includes Mark Ingram and, of course, Drew...

John Schneider has a simple rule: He doesn't like lying to people

Kizer, the former Notre Dame standout, is one of the top QBs in the draft class