John Madden on 49ers situation: Owner should side with Harbaugh
Pro Football Hall of Famer John Madde thinks that if the 49ers have to pick between Jim Harbaugh and general manager Trent Baalke, they should pick Harbaugh.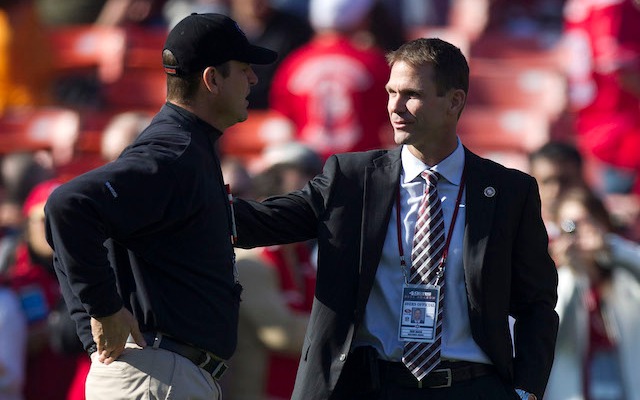 Former NFL coach and broadcaster John Madden lives just outside of San Francisco, so he's had a front row seat to the ongoing drama that the 49ers have become. It's gotten so bad in the Bay Area that there could come a day where the team has to choose between coach Jim Harbaugh and general manager Trent Baalke, according to CBS Sports NFL Insider Jason La Canfora. 
If that day comes, Madden thinks the 49ers should dump Baalke and keep Harbaugh, "It's a lot easier to get a suit than it is to get a coach," Madden told KCBS on Wednesday. "The owner has to pick the coach." 
Basically, Madden doesn't think the 49ers should get rid of Harbaugh because they won't find anyone better to replace him with. 
"Jim Harbaugh has done a great job of coaching in the NFL no matter how you put it," Madden said. "Getting to three championship games in a row with that group or with any group is a heck of a thing that he's done... You tell me where they're going to get a guy that's any better than him."
Madden knows something about dysfunction, he won Super Bowl XI as the coach of a Raiders team owned by Al Davis. The 77-year-old Pro Football Hall of Famer says the power plays need to stop in San Francisco. 
"The best model [for running the team] is they get along," Madden said. "Eventually they have to come to a decision together. It can't be a power play. It can't be where one wants one player and one wants the other, and they have to have a power play over it. And if they do, I think the coach has to have it, because if he doesn't like the guy and if he's not going to coach him and play him, then it doesn't do any good to draft him." 
Madden thinks that Harbaugh should absolutely have the final call on the 49ers roster, "When you get down to 53 [players], I think the coach has to do that. He has to decide who the players are going to be," Madden said. "The other power -- salary cap and all of that stuff -- I wouldn't want anything to do with that and I don't think coaches should."
Show Comments
Hide Comments
The first-round QB from Clemson impresses Texans coaches with the way he's picking up the...

Dave Gettleman does not understand the DEFCON system

The Cowboys were big stars at Dirk's annual charity event
Floyd claims to have drank four or five bottles of kombucha tea, resulting in a failed alcohol...

Atlanta's new video board wraps around the length of the stadium and looks incredible

Miami wound up turning to Matt Moore, who fared well but couldn't deliver in the playoffs