Johnny Manziel appears to be back in Vegas from this famous chef's photo
Being spotted in a Las Vegas nightclub will not help the perception that he is making life changes and working his way back toward sobriety and an NFL future.
Former Cleveland Browns quarterback Johnny Manziel recently hired superagent Drew Rosenhaus to help drum up interest in his services and find his next team. It took only two days for Rosenhaus to assert that there are "teams" interested in Manziel, but CBS Sports NFL Insider Jason La Canfora saw things another way.
JLC reported that teams aren't really interested in Manziel right now and that the lack of interest won't change unless and until he makes "some major life changes and makes real strides towards sobriety." Something that definitely will not help the perception that he's done so: popping up in Las Vegas clubs.
Batali does not specify in the caption if this is a new photo or an old one. If it's an old photo being posted now, that's some unfortunate timing for Manziel's career prospects. If it is indeed a new photo from Saturday night (or early Sunday morning), at least Manziel does not appear to have a drink in his hand, though his right hand is not fully visible. Being photographed in a Las Vegas club so soon after hiring new representation to get himself back into the league, though, is not a good look for Manziel, drink in hand or not.
It's obviously more important that Manziel get himself healthy and get himself sober than that he wind up back on an NFL field some day. There are things in life that are bigger than football, after all. But he obviously does want back in at some point; you don't hire Drew Rosenhaus because you plan on calling it a career. Rosenhaus can only do so much selling, though. Manziel has to assure teams that he's got his head on straight, and step one is not appearing in places like this.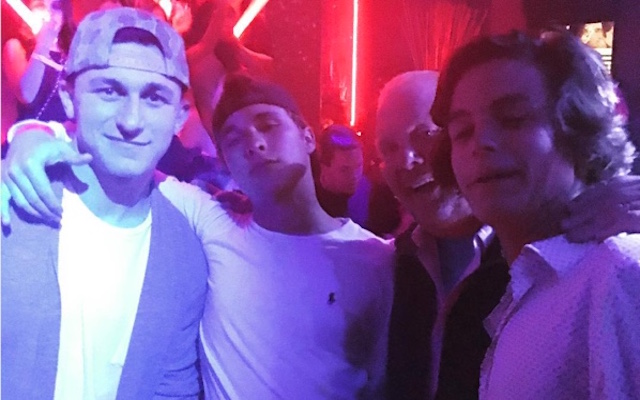 Show Comments
Hide Comments
Our Latest Stories
The Bengals beat the Dolphins, 22-7, to improve to 2-2 on the season

It doesn't look like the Texans will be getting back their star pass rusher by December

Run-ins with the police are becoming all too common for the Tide's top prospects
Green made rookie cornerback Xavien Howard look like a fool

Stills ended up wide open deep down the field and waltzed into the end zone to give Miami an...

Who hates the Dolphins to make them wear those orange duds? Twitter wants to know