Johnny Manziel just hired a big-time NFL agent, but it might not help him
Johnny Manziel has a new agent.
Six weeks after he was dropped by his agent, Johnny Manziel has finally found new representation. 
CBS Sports NFL Insider Jason La Canfora reported on Saturday that Manziel is now officially being represented by Drew Rosenhaus. The super agent currently represents dozens of NFL players, including LeSean McCoy and Rob Gronkowski. 
For Manziel, Rosenhaus will be the second agent he's hired during his brief NFL career. Manziel had previously been represented by Erik Burkhardt, but that relationship ended on Feb. 5 when Burkhardt dumped Manziel following an alleged domestic abuse incident in Texas. 
Being Manziel's agent probably isn't going to be easy. According to La Canfora, NFL teams have zero interest in Manziel right now due to his constant partying. Over the past two months, Manziel has been spotted drinking and partying in Mexico, Los Angeles and Miami. 
Manziel partied in South Beach after his domestic violence case was sent to a grand jury. The former Browns quarterback followed that up a few weeks later by partying in L.A. after he was cut by the Browns. 
According to La Canfora, teams won't be interested in Manziel until he makes "some major life changes and makes real strides towards sobriety."
If Rosenhaus can help him do those two things AND find a team that's willing to sign him, then he'll definitely be earning his commission.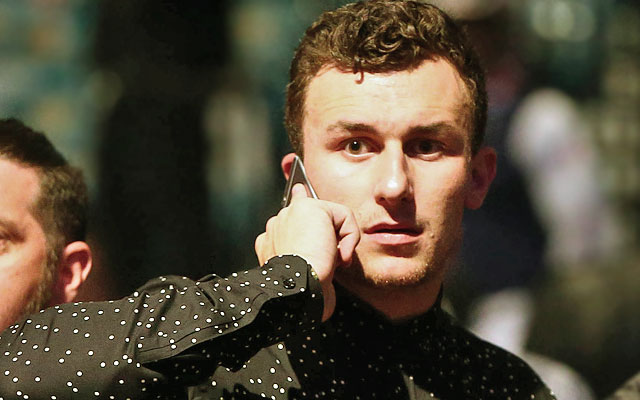 Show Comments
Hide Comments
The Cowboys' draft picks since 2002 have been to 17 more Pro Bowls than the next closest t...

The Cardinals, however, don't sound enthused about his return

According to NFL Network's Michael Silver, the Browns might want to trade up to draft a franchise...
The projected top-20 pick could fall out of the draft with teams having little time to gather...

Bryant will have his progress reviewed again before the coming season

From Jadeveon Clowney to Odell Beckham, here's the option year prognosis for each 2014 first-round...