Jonathan Martin breaks silence, Internet tough guys converge
Jonathan Martin tried to wish everybody good cheer on his Twitter account. And then the mean people came out.
We haven't heard much of anything from Dolphins tackle Jonathan Martin since he accused guard Richie Incognito of bullying and hazing and then shuffled off to California to wait out the ensuing fallout.
We know Martin has talked to investigator Ted Wells, but since then, Martin has mostly been silent.
Until he posted the following Twitter update Monday.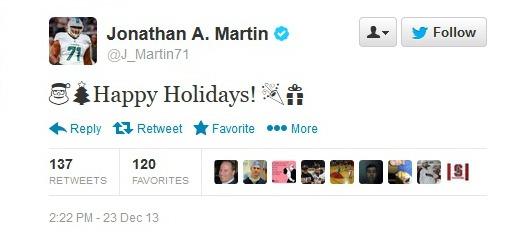 Nice message, of course, even if he used too many emoticons. Unfortunately not everybody appreciated Martin's good tidings.
@J_Martin71 Get Lost Coward Punk

— David Dann (@daviddann71) December 23, 2013
@GLagz34 @MrRanger94 @J_Martin71 Dont be mean to him guys, he'll tell his mother on you

— Eric M (@ItsTinoTime17) December 23, 2013
@mrbusche @MrRanger94 @J_Martin71 certainly not normal but quitting on your team instead of fighting back is spineless.

— BullMarketGuy (@BullMarket420) December 23, 2013
@J_Martin71 Not for you, coward.

— Darren Shore (@thedarrenshore) December 23, 2013
So, good job, Internet tough guys. You've taken a nice message from a human being/player and tried to trash it for, really, no reason at all.
Follow Josh Katzowitz on Google+
Show Comments
Hide Comments
It's kind of hard to tell just how much weight the Packers running back lost

Players jump behind the counter at Bojangles, Krispy Kreme and the Beacon to sling chicken,...

Dino Babers seems to think the Patriots' backup will do just fine filling in for Tom Brady
Lynch thinks he still has a shot to start at some point during his rookie season

The Seahawks' management team is now locked in long-term

We take a look at the player on each AFC team facing a pivotal season for a variety of rea...