Jonathan Martin on 49ers: I can tell I'll get along with those guys
Former Dolphins offensive lineman Jonathan Martin is ready to start over with a 'blank slate' in San Francisco.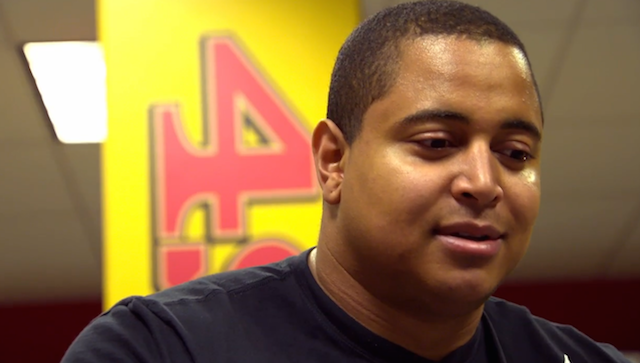 For the first time since being traded to San Francisco, Jonathan Martin was at the 49ers practice facility on Thursday and it seems the former Miami Dolphins offensive lineman likes what he saw.
Although Martin had trouble with his teammates in Miami, he doesn't see that happening in San Francisco. As a matter of fact, Martin said he feels like he's going to get along well with his new teammates. 
"I can tell already that I'm going to get along just great with those guys," Martin said of his new teammates during a conference call on Thursday. "I've felt a warm welcome from the entire 49ers community, fan base, coaching staff, everybody. I'm just looking forward to the future and getting back to playing football."
Looking forward to the future means not dwelling on the past. Martin didn't really feel a need to talk about the Ted Wells report, the investigation that showed a pattern of harassment against Martin by Richie Incognito and several other former teammates in the Dolphins locker room.
"My focus is 100 percent on the future and moving forward," he said. "It's a blank slate for me. I'm looking forward to revitalizing my career, getting back to playing. I want to do whatever I can to contribute to this O-line. It's one of the best O-lines in football already."
Despite what transpired in Miami, Martin said he never had any plans to retire, "That didn't even cross my mind at any point," Martin said. "I'm a football player. I've been a football player my entire adult life. My goal is to have a successful NFL career. I'm just looking forward to the future... and hopefully retiring as a 10-year vet."
The chance to reunite with Jim Harbaugh, his college coach at Stanford, is a big reason Martin's excited about his prospects in San Francisco, "I think it worked out great to once again be playing for Coach Harbaugh, once again in the Bay Area," Martin said. "Playing for a winning franchise, a team that's had a lot of recent success. And to hopefully be able to contribute to further success with this team."
Martin should be able to contribute something to the 49ers. Before leaving the Dolphins in late October, Martin started in all 23 games he played in over one and half seasons. The 2012 second-round pick played both right and left tackle in Miami, which is perfect for a San Francisco offensive line that features a 'swing tackle' type position that involves backing up starters Anthony Davis and Joe Staley. 
If Martin does stick in San Francisco, then the Dolphins will get something out of the trade. Miami will get a 2015 seventh-round draft pick from the 49ers if Martin's on San Francisco's opening day roster in 2014.  
Show Comments
Hide Comments
'I want to score a lot of touchdowns. I want to see a lot of celebrations,' Harbaugh said

The 2015 first-round pick has 33 career receptions

Sherman reportedly thought about playing for the Cowboys or Patriots
One of the league's best wideouts had just four catches for 28 yards against Green Bay

The Browns selected Kizer in the second round of the 2017 NFL Draft

Talk about a great Christmas present