Just Because: Dozens of people saw Steve Young vs. Jim Kelly
In 1985, Jim Kelly faced off against Steve Young in a USFL battle that hardly anybody saw.
• 1 min read
Quick question: where was the below photograph taken?
A) A high school game in the 1980s; B) The Jaguars-Jets preseason game: C) A contest in which two Hall of Fame quarterbacks are competing?
If you answered C, well, you win a prize. Perhaps you'd enjoy a front-row ticket to the game that almost nobody saw 28 years ago?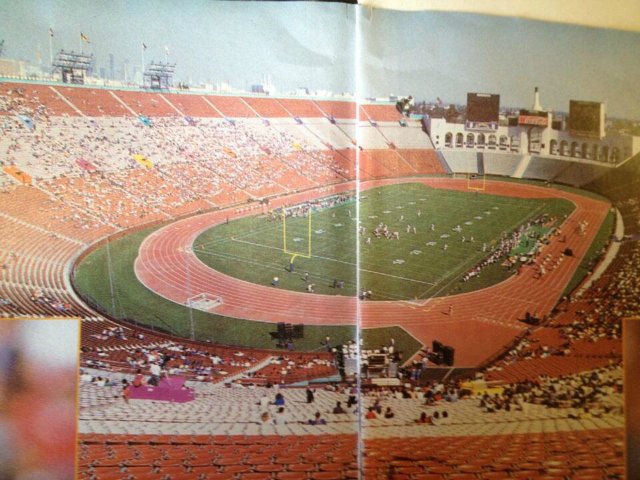 H/t to ESPN's Darren Rovell.

Though you can't see them from this angle, this 1985 USFL game pitted the Houston Gamblers vs. the L.A. Express and it featured Jim Kelly (playing for the Gamblers) vs. Steve Young. Here was the AP preview.




As it turns out, it was a pretty decent game that all of, maybe, 1,000 people saw on a gorgeous day at the Los Angeles Coliseum.

'Tis a pity, because the game was an absolute shootout.


Image, via Mid-Cities Daily News.

So, in a word, yay for the USFL! If only people had seen this high-fiving advertisement beforehand, the stadium could have been sold out.


Follow Josh Katzowitz on Google+
Show Comments
Hide Comments
Kennedy, inducted into the Hall of Fame in 2012, died at his Orlando home according to rep...

Overtime in the NFL is going from 15 minutes to 10 minutes in an effort to reduce injuries

Group celebrations, using the ball as a prop, going to the ground and snow angels are all legal...
Drafted to give the Jets a deep threat, Smith leaves New York with 10 career receptions

The Browns owner says there's a different vibe in the building, despite just four wins in two...

The former first-round pick hasn't had a market for his services since being waived by the...