Just Because: Familiar dudes in unfamiliar uniforms -- Andre Reed
Do you want to see Andre Reed wearing a Redskins uniform? Of course you do.
• 1 min read
More NFL: Photos |  Videos & GIFs |  Training Camp updates | Manziel
Buffalo fans were most assuredly in the house Saturday night at the Pro Football Hall of Fame to watch Andre Reed make his 35-minute speech and then to gasp as Jim Kelly threw him a picture-perfect pass when Reed was done with his presentation.
Yeah, Reed is a Buffalo Bills player through and through.
But in case you've forgotten, Reed, after 15 years in Buffalo, spent the final season of his career with the Redskins. Here's proof: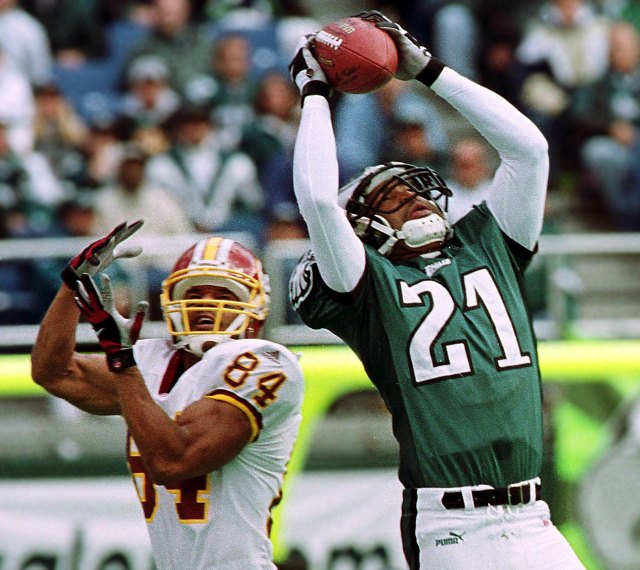 Reed was signed by the Redskins in September 2000 to replace injured receiver Michael Westbrook. This came after Reed completed a short stay with the Broncos in which he probably wouldn't have gotten much playing time and asked to be released.
Turns out that in his final season in the league, Reed caught just 10 passes for 103 yards and one touchdown and retired after the season.
But look at the photo above. Notice anything weird about Reed's uniform (aside from the burgundy and yellow color scheme)? He's wearing No. 84. That's not the number he wore all those years in Buffalo. That number was 83.
So, who was wearing No. 83 for Washington that season? That would be the unforgettable Albert Connell. Who, most assuredly, was not being inducted into the Hall of Fame on Saturday.
Show Comments
Hide Comments
The Raiders have some special plans for the draft that fans in Oakland might not like

She's not a huge fan of the Hall of Fame defensive lineman

Follow along as we track all the rumors as the 2017 NFL Draft approaches
The Eagles QB is representing his city

A report Thursday afternoon indicates that Myles Garrett will be the first overall pick in...

Mitchell Trubisky will not be the top overall pick after all