Just Because: George Connor, circa 1950, stiff-arms some poor soul
If you were stiff-armed by George Connor, well, we feel sorry for you.
• 1 min read
When George Connor was born in 1925, he was two months premature and weighed less than 3 pounds. Doctors did not believe he would survive past infancy. He was too small. He had emerged from the womb too soon. Modern-day technology was not equipped to help a poor soul like Connor, who was given a 10 percent chance to live.
But survive he did.
His mother, a nurse, fed him hourly with an eyedropper filled with boiled cabbage juice. She did that for a year. And though he entered high school as a 5-foot-4, 135-pound freshman, he eventually grew to 6-3 and 240 pounds.
And when confronted by an opponent foolishly trying to get in his way, the Bears linebacker could do this (via Getty Images):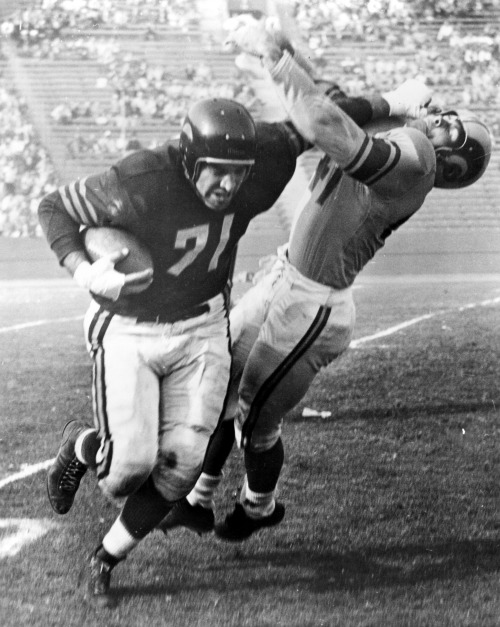 A couple things about this photo:
1) This image was recorded circa 1950, and luckily for that poor bastard in a Los Angeles Rams uniform, he's unnamed in the Getty caption.
2) Sure, maybe getting stiff-armed in the modern-day NFL, with current helmets and whatnot, doesn't physically hurt so much  (though the amputation of a players' pride probably doesn't feel so good). But how about getting stiff-armed when there's no bar running across your face to protect, um, your face.
This ...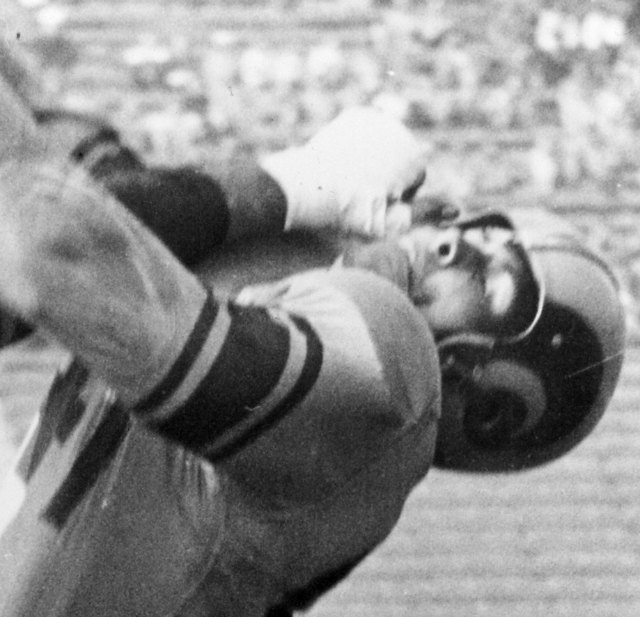 ... doesn't appear to be much fun.
3) Connor was a defensive tackle and a linebacker, but he was also an offensive tackle. That doesn't explain why he looks like a running back in this photo, but maybe he was taking back an interception or something (he had seven picks in his career).
4) Connor, a four-time All Pro who was inducted into the Hall of Fame in 1975, might have been a tiny baby. But here's how famed sports writer Grantland Rice described him: "The closest thing to a Greek god since Apollo."
5) He also made history in 1949 when Bears coach George Halas moved Connor away from defensive tackle and placed him into a newly-created position called, ahem, a linebacker.
"Most teams had never seen it before," Connor was quoted as saying in 1984, 19 years before he died. "Blockers didn't really know how to handle me out there off the line of scrimmage. And all the fans were looking at me because the newspapers made such a big thing about it with diagrams and all. Now, everyone plays it."
But most don't crush the face of their opponent like Connor did to that poor SOB in that photo.
Show Comments
Hide Comments
The Cowboys' draft picks since 2002 have been to 17 more Pro Bowls than the next closest t...

The Cardinals, however, don't sound enthused about his return

According to NFL Network's Michael Silver, the Browns might want to trade up to draft a franchise...
The projected top-20 pick could fall out of the draft with teams having little time to gather...

Bryant will have his progress reviewed again before the coming season

From Jadeveon Clowney to Odell Beckham, here's the option year prognosis for each 2014 first-round...