Just Because: Lawrence Taylor and a pair of yellow coach's shorts
It's 1987. Lawrence Taylor has just helped win the Super Bowl. Why wouldn't he wear coach's shorts to meet with the media?
• 1 min read
If you've ever been asked the eternal question, "What exactly do you wear to a postgame Super Bowl interview after you've won the NFL title?" the 1987 version of Lawrence Taylor is here to tell you -- nay, SHOW you -- the way.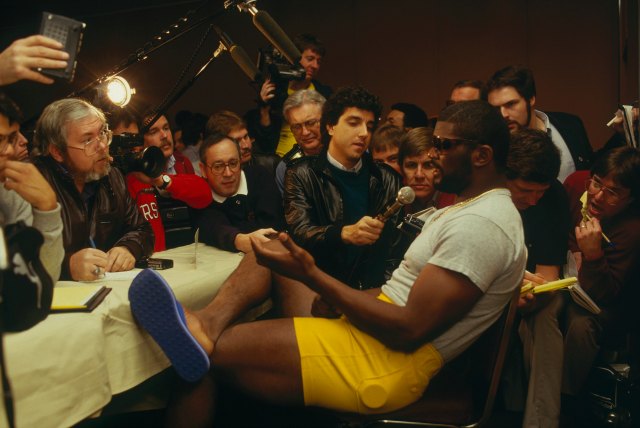 A couple things from this photo, taken after the Giants beat the Broncos in Super Bowl XXI:
1) You MUST wear yellow coach's shorts. The tighter, the better. Particularly since they help show off your tree trunk quadriceps. Also, make sure to cross your legs, ankle to knee, so the scribes that surround you can marvel at the massivity of your lower limbs (and yes, massivity is not a word, as far as I know). Added bonus if you have blue/purple shower shoes.
2) I'm a sports writer, so I will not make fun of the wardrobe choices made by my fellow sports writers from 26 years ago. In fact, I'll go the opposite route. I think most of them, again knowing that we're talking about 1987 fashion, look pretty spiffy. Some nice-looking sweaters in there, a couple of tasteful-looking leather jackets, most of the facial hair seems to be somewhat groomed and cleaned of leftover food. Clearly, there was effort made by most of the guys, and really, that's all I really want to see.
3) In the top left corner of the photo, what the hell is that thing? Some kind of oversized cell phone, maybe one of those newfangled mini-iPads I've heard about? No, silly, this is 1987. That's just a massive tape recorder that probably actually used cassette tapes to record all of Taylor's thoughts.
4) One other thing about those tight yellow shorts: If you could place a can of dip in one of the back pockets (is it for convenience, is it a fashion statement or is it both?), that would be wonderful.
And if you'd like to own your own (reasonably similar) pair, you're in luck. eBay has some for your browsing pleasure. Note: Thighs of massivity not included.
Follow Josh Katzowitz on Google+
Show Comments
Hide Comments
The Notre Dame coach clarifies his earlier comments about his former quarterback

The Cowboys owner says he's better now than ever

Sometimes it's hard to figure out what the Bills are doing
Peterson would join a formidable backfield that includes Mark Ingram and, of course, Drew...

John Schneider has a simple rule: He doesn't like lying to people

Kizer, the former Notre Dame standout, is one of the top QBs in the draft class