Keenan Allen: 'The fans got what they wanted; now let's see sellouts'
San Diego's home stadium was often overrun by opposing fans this year.
San Diego Chargers owner Dean Spanos announced in a statement on Friday that the team will remain in San Diego for at least the 2016 season. The team does have an agreement to move with the Rams to their Inglewood stadium for 2017, but Spanos' statement maintained that his "focus is on San Diego."
Now that the team is staying put, star wide receiver Keenan Allen has a request for the fans: show up to some games.
So it's looks like we are going to be in San Diego for another season. The stadium better be packed. The fans got what they wanted.

— Keenan Allen (@Keenan13Allen) January 30, 2016
Now let's see sell outs every home game! And not the other teams colors! #BoltUp

— Keenan Allen (@Keenan13Allen) January 30, 2016
The Chargers only had an attendance rate of 94.6 percent, which was 22nd in the NFL, and their home-field advantage was all but nonexistent this season. Opposing fans showed up in droves every week, and in one home game, the Chargers even had to go to a silent snap count.
With (slightly) more certainty about the Chargers' future in San Diego, maybe the stadium will go back to being packed with Chargers fans rather than the opposition.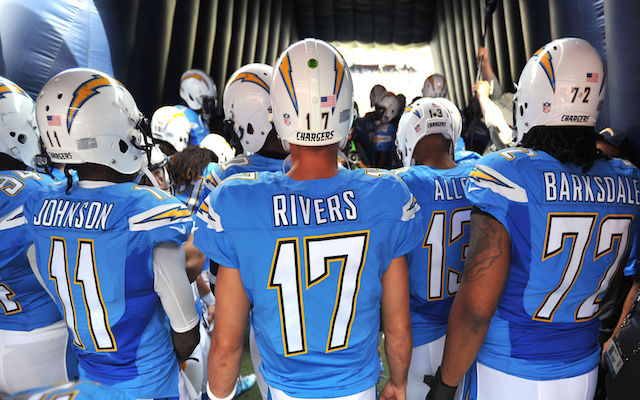 Show Comments
Hide Comments
Our Latest Stories
A look back at Watt's incredible reign, Siemian's success, and the Seahawks' super weird t...

The Texans quarterback hasn't been much of an upgrade over his predecessors

Everything you need to know for the Colts vs. Jaguars on Sunday
Here are your worst, er, Best Bets for Week 4 of the NFL

Here are the 10 biggest storylines to watch as Week 4 of the NFL continues Sunday

Pete Prisco pinpoints the key matchups in every game that'll likely decide who will win and...