Lawrence Taylor on Tom Coughlin's tenure: 'It's time for a shakeup'
Former Giants star Lawrence Taylor has an opinion on the Giants coaching. He feels it's time for Tom Coughlin to leave.
• 1 min read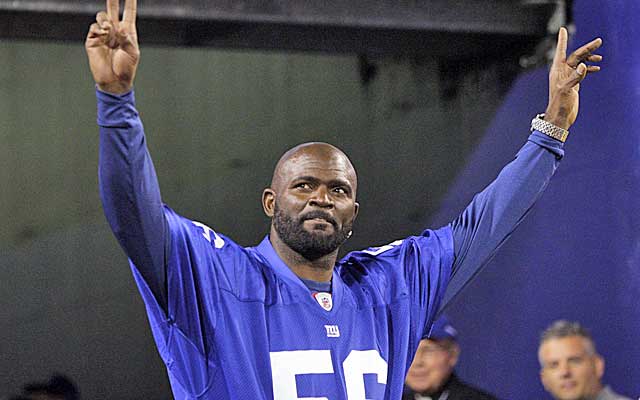 Seems like whenever Tom Coughlin's Giants squads struggle, fans are ready for management to fire him. Maybe they temporarily forget that he's won two Super Bowl titles for New York or that he hasn't had a losing season since his first year with the Giants in 2004.
Now, former Giants star Lawrence Taylor is beginning to agree with those who would like to move on from the 67-year-old coach.
"Tom Coughlin has done wonders for the Giants. Personally, I don't know if I could play for him, but the guy is a winner, he is a fighter. But I think it is time for him to take his talents on the road,'' Taylor told the NY Post Saturday night. "He's done all he can do for the Giants. If he wants to coach, I think he needs to take his philosophies to another team.
"After a while, the players just stop listening. I respect the man, but it's time. As much as I like Coughlin and the job he has done, it's time for a shakeup."
The Giants are 5-8 heading into Sunday's showdown with the Seahawks, and the team already has been eliminated from playoff contention. But to fire him now, would that really be a good option?
After all, the team has played better since the last time we talked about how Coughlin maybe should think about leaving the team when the Giants were 0-6.
Taylor says he's got nothing personal against Coughlin. But he also might not want to voice his opinion anywhere near the vicinity of Justin Tuck.
"If anyone turns on our coach, I would be the first one to punch him in the mouth," Tuck said in September. "And put that in print. It better not happen, I know that."
As for whether Taylor could play for Coughlin, CBSSports.com's Pete Prisco has an opinion on the matter.
LT is an idiot if he thinks Coughlin should go. He's been every bit as good as LT's coach, Parcells. Look it up.

— Pete Prisco (@PriscoCBS) December 15, 2013
LT says he couldn't play for Coughlin. Yeah, wouldn't get to show up 10 minutes before a game hungover.

— Pete Prisco (@PriscoCBS) December 15, 2013
Follow Josh Katzowitz on Google+
Show Comments
Hide Comments
Our Latest Stories
It's not easy being an NFL head coach in the offseason

The Jets have been doing some serious housecleaning this week

Kyle Shanahan is already beefing up his defensive line
The former first-round pick has filed for an interesting trademark

Apparently, technology isn't always the answer

At least one member of the family can ski