LeBron James' marketing agency is dumping Johnny Manziel
Johnny Manziel needs a new marketing agency.
It looks like the Cleveland Browns aren't the only ones growing tired of Johnny Manziel's act; it turns out his marketing agency has had enough too. Manziel's marketing agency LRMR, which is owned by LeBron James, announced on Wednesday that they'll be cutting ties with the Browns quarterback.
The man who runs LRMR, Maverick Carter, says the agency is dumping Manziel because the Browns quarterback needs to focus on other things like "personal growth."
"We've decided to end our formal business relationship with Johnny," Carter told Cleveland.com. "I will continue to support and advise him as a friend. However, because Johnny needs to focus on personal growth, the next phase of his career and because LRMR continues to expand beyond marketing, we made the mutual decision that it was best to terminate our business relationship."
According to Cleveland.com, LRMR was trying to get away from doing endorsement deals, and Manziel was their only client for whom they were strictly doing endorsements. There had been talk that Manziel would likely be dumped, but it's believed that his recent trip to Las Vegas led LRMR to cut ties sooner than they might have wanted.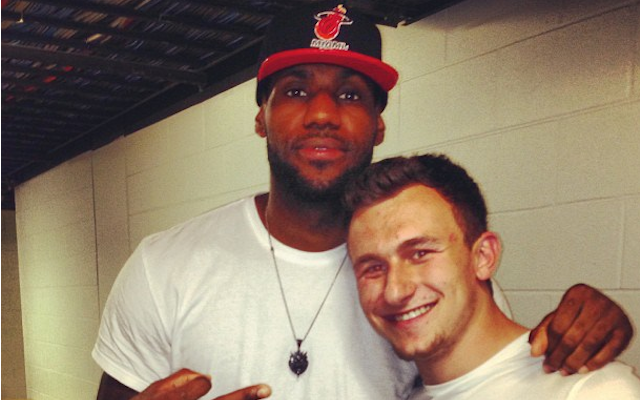 James was actually asked about Manziel's Vegas antics on Wednesday, and the Cavaliers star said that the big problem for Manziel is that he's creating a distraction for his team.
"I'm not quite sure, I don't know all the details on it. I've really kind of haven't been all up on it but I've heard a little of it," James said when asked about Manziel's trip to Vegas. "It's just a distraction for not only himself, but for everyone that's around him including family, people that represent him, the people that are around him. And he'll figure it out at some point. We all hope."
Manziel had prominent endorsement deals with Nike, McDonald's and Snickers during the 2015 NFL season. The decision to dump Manziel comes less than two years after the company originally decided to sign him in January 2014.
Show Comments
Hide Comments
The Raiders have some special plans for the draft that fans in Oakland might not like

She's not a huge fan of the Hall of Fame defensive lineman

Follow along as we track all the rumors as the 2017 NFL Draft approaches
The Eagles QB is representing his city

A report Thursday afternoon indicates that Myles Garrett will be the first overall pick in...

Mitchell Trubisky will not be the top overall pick after all