LeBron James wants 49ers S Donte Whitner to win the Super Bowl
The Dallas Cowboys are LeBron James' favorite NFL team. His second favorite team seems to be whoever Donte Whitner plays for.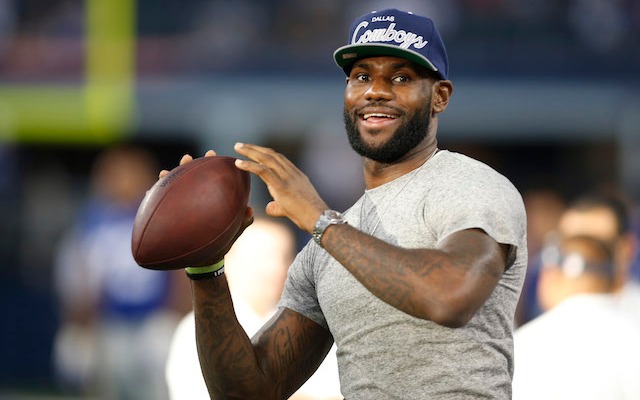 LeBron James is a noted Dallas Cowboys, which means like most Cowboys fans, he has to find another team to root for during the playoffs because it's kind of hard to root for a team that's not in it.
James' backup team this year? The San Francisco 49ers. Actually, based on the tweet below, it seems like James' backup team is whichever team Donte Whitner is playing for and Whitner happens to be playing for the 49ers. 
Congrats to my homie @DonteWhitner on the game clinching INT and W! Since my Cowboys out I want him to win it all!

— LeBron James (@KingJames) January 12, 2014
As LeBron noted, Whitner basically iced the game when he picked off Panthers quarterback Cam Newton with 4:22 left in the fourth quarter and the 49ers leading 23-10. 
It's not clear how long Whitner and LeBron have been friends, but they're both from Northern Ohio and LeBron seems to regularly support Whitner on Twitter. James sent Whitner a good luck tweet before the last two NFC Championship games. 
Here's LeBron's tweet from two years ago when the 49ers played the Giants: 
Good luck to the homies @DonteWhitner & Ted Gin in the NFC Championship today!

— LeBron James (@KingJames) January 22, 2012
And here's LeBron's tweet from last year when the 49ers played the Falcons: 
Good luck to my homie @DonteWhitner! Lets get it! Remember what we talked about the other day

— LeBron James (@KingJames) January 20, 2013
If the 49er makes the Super Bowl, LeBron might be able to fit the game into his schedule. The Miami Heat play in New York the night before Super Bowl XLVIII is played at MetLife Stadium in New Jersey. 
Show Comments
Hide Comments
The commissioner is concerned about how the league approaches medical marijuana

The Clemson quarterback started crying when he read a note from his mom

Both teams blasted the reports of a potential Kirk Cousins deal during Round 1 of the draf...
After an unpredictable Round 1, here are some predictions you can bank on for Rounds 2 and...

Receivers surprise in the top 10, Alabama goes MIA in the top 15 and more 2017 NFL Draft t...

Florida State RB Dalvin Cook will kick off Day 2 of the draft