LeSean McCoy has some surprising Chip Kelly advice for 49ers players
LeSean McCoy actually has some nice things to say about Chip Kelly.
LeSean McCoy and Chip Kelly haven't exactly been on the best of terms over the past year. After Kelly traded McCoy from Philadelphia to Buffalo back in March, there seemed to be a little bit of animosity on McCoy's side.
Shortly after the trade, McCoy said that Kelly got rid of him because he wanted to dump all of his star players, which led many to believe that there was a racial element to Kelly's decisions.
By the time December rolled around, things were't much better. When asked if he was going to shake Kelly's hand after the Bills' game against the Eagles in Week 14, McCoy said, "Chip can't shake s---." 
Based on their past, you'd think McCoy would would tell 49ers players to quit the team now that Kelly's their coach, but that's not what happened this week.
During an interview with NFL Network, McCoy actually had some good things to say about Kelly. McCoy called Kelly "intelligent" and said that if 49ers players buy into his system, they'll "be fine."
"Every situation is different," McCoy said. "The one thing I will say about Chip is that he wants to win. He's very, very intelligent. The offense, they'll find ways to get the big numbers. They'll find ways to put the stats up offensively."
McCoy emphasized that the arrival of Kelly is good for everyone on the 49ers roster.
"With him coming in there, no matter how good of a player or low player you are, if you just automatically believe him -- no matter if it sounds crazy, you're like, 'What is he talking about?' -- if you just automatically believe and buy in, I think you'll be fine," McCoy said.
If the 49ers buy into the system, they could see the same turnaround that the Eagles saw during Kelly's first season in Philadelphia. After going 4-12 in 2012 with Andy Reid, Kelly came in and led Philly to a 10-6 record and a division title in his first season.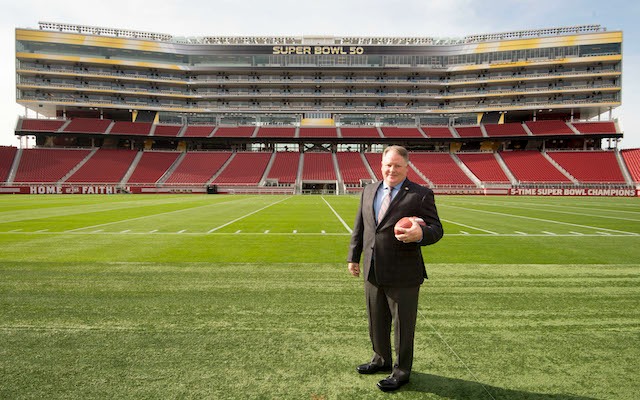 Show Comments
Hide Comments
The crowd went wild when Waka informed them who was on the phone

Everybody whiffs in the draft. Here's the worst pick for each franchise since 1995

Smith missed all of last season recovering but could be close to a return
The Saints have four of the first 76 picks in this week's draft

Players can now sell their data as the NFLPA looks to advance player safety

The former Bucs and Raiders star only sees 'splash plays' with the Texas A&M defensive end