Lions GM Martin Mayhew: We're not looking to trade Ndamukong Suh
Detroit Lions general manager Martin Mayhew said on Monday that his team has no plans to trade Ndamukong Suh, despite a report that said the opposite.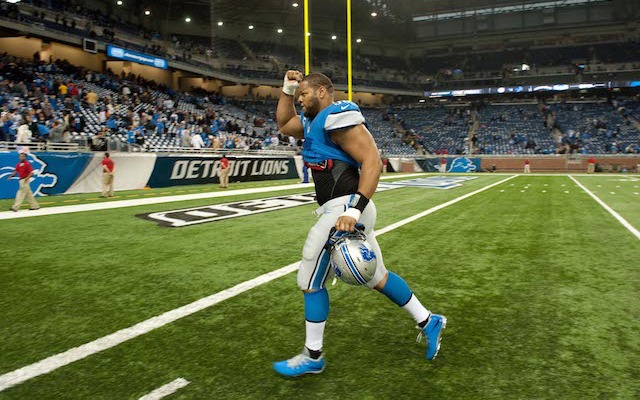 More Draft coverage: Mock Drafts | Prospect Rankings | Big Board | News
If the Detroit Lions are planning to trade Ndamukong Suh, someone should probably tell Lions general manager Martin Mayhew. During a predraft interview session on  Monday, Mayhew said the team has no plans to trade Suh, refuting a report from late April that said Detroit was looking to dump its fourth-year defensive tackle. 
"We're not looking to trade him," Mayhew said, via MLive.com. "There are no plans to trade him. I haven't had any conversations with anybody about trading him."
However, Mayhew did mention that one team called about Suh back in January before the latest trade report surfaced on April 25, "I did get a call from a team that had an interest," Mayhew said. "Offered me a box of old tube socks, and I said no thank you. Other than that, there have been no conversations. No gauging the interest level."
Of course, Mayhew could be telling the media one thing and doing another because it's draft time and that's what everyone does at draft time, but he says that's not the case.  "There's been none of that happened that's been authorized by me. So I don't know where that came from. That's not on the table."
Suh is due $12.55 million in base salary in 2014 and has a cap hit of $22.41 million, so it's easy to come up with reasons why the Lions would trade him, but all of those reasons would be wrong, according to Mayhew. 
"There are a lot of scenarios you can create where it might make sense to do something with him," Mayhew said. "You can think through all that stuff. The bottom line is winning football games. And we're trying to win football games. [Suh's] the guy who helps us do that. So I plan on Ndamukong being with us."
If the Lions have no plans to trade Suh, that means they probably feel good about re-signing him. Suh, the No. 2 overall pick in the 2010 NFL Draft, is headed into the final year of his rookie contract and Mayhew didn't offer much of an update on negotiations other than to say that they're 'ongoing.'
Sherman thinks that all quarterbacks on all NFL teams get treated better than anybody else

The Patriots coach looks pretty cool on the 15th anniversary cover of Nantucket magazine

Taco Bueno has been angling for a deal with Charlton ever since he was drafted
Jeff Garcia, Jimmy Clausen and Justin Forsett explain their involvement in American Flag Football...

The Panthers added more playmakers to take some of the pressure off Newton this season

Young has been out of the NFL a while but still feels slighted when other quarterbacks get...