Lions training camp: Caldwell just the coach Matthew Stafford needs
Offense isn't the Lions' problem. Neither is run defense. So why don't they win more? New coach Jim Caldwell tries to figure it out.
The Lions had the division title in their grasp last year and let it go in losing their last four games and firing their head coach. Enter new coach Jim Caldwell and his offensive mind along with new offensive coordinator Joe Lombardi and his Saints influence.
The Lions were the No. 6 offense in the NFL last year, and had the No. 3 passing attack. So, what did they do in the offseason? They strengthened an already potent offense by adding WR Golden Tate and drafting TE Eric Ebron in the first round.
What to expect from the Lions offense
The offense could be a juggernaut with the new additions. Ebron described himself as a work in progress. He is satisfied with the development of his blocking and is paying close attention to his alignments and motion landmarks. He was quick to add how precise things have to be in the pros. At practice he had some drops mostly due to too many things to think about. When he is ready the Lions' 12 personnel package (1RB, 2TE, 2WR) could be tough to match up with, especially when Reggie Bush is the RB.
Last year the offense averaged 26 points a game in the six division games, and with issues at safety for all three division opponents they could creep up to 30 points a division game.
Matthew Stafford said, "I want to be coached," and the notion that he's a gunslinger with undisciplined habits is nonsense. Caldwell and Lombardi will get Stafford to be more disciplined and eliminate many of the turnovers. Caldwell said he had Peyton Manning and Joe Flacco heading into their fifth seasons and because Stafford missed a year of playing time feels like he has Stafford at the same juncture of his career.
The offensive line was solid in protection last year and looks just as good now. Center Dominic Raiola said there are some subtle differences in the pass-blocking schemes that is taking time to grasp but it's not a big issue. Travis Swanson, the 2014 third-round pick, may be the heir apparent to Raiola, but that may take a few years. In the meantime Travis Swanson could be a factor at guard, tackle or even tight end, according to GM Martin Mayhew.
What to expect from the Lions defense
The defense is centered on two tackles, Ndamukong Suh and Nick Fairley. Suh has an astronomical contract that has the Lions tied up with little cap space. For now the Lions have great push inside against pocket passers and a run defense that was No. 6 last year. Suh will not talk contract issues, which is understandable, but he did talk football. Suh described his offseason workouts as something like working with a mad scientist. He looked awesome and expects a big year.
Stephen Tulloch runs the defense and described the unit as a tough and almost angry bunch that wants to pull their weight for the offense. I'm not sure there is a replacement for Tulloch if he was injured unless they move De'Andre Levy over to Mike and bring rookie Kyle Van Noy off the bench to play SAM.
The secondary is where the biggest questions are and it is about the second and third corners as well as the third safety. The team signed journeyman corner Drayton Florence while I was at camp and he will compete with Rashean Mathis and Bill Bentley.
Something tells me the Lions are not done looking at corners either on the waiver wire or in a trade.
Rookie report
• Ebron will be a factor almost from the beginning of the season. He is confident almost to a point of cocky, but he is talented. Stafford said, "All Eric needs is some fine-tuning."
• Kyle Van Noy will be a starter by midseason and could get some situation work earlier because of his pass-rush skills.
• CB Nevin Lawson is a wild card in the cornerback competition, but for now I'll call him a backup.
• DE Larry Webster is an intriguing prospect with tremendous talent but as raw as Ziggy Ansah was last year.
• Carun Reid got high praise from Suh, who said, "He will step up and play good for us, he's smart and talented."
Players on the bubble
Everything depends on how many players the Lions keep at each position. For example, if they decide to keep three running backs Theo Riddick is making things tough for Mikel Leshoure. DE George Johnson is a pleasant surprise of camp and he could push Darryl Tapp.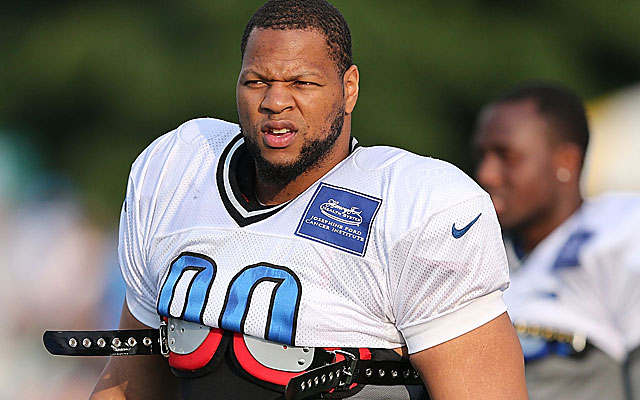 Big questions
• Can Caldwell take Stafford to the next level in his career? Many people believe Stafford is headed in the wrong direction. I am not one of them and I do think Caldwell will get the Lion QB to make better decisions and steady his mechanics.
• Can the new regime change the culture in Detroit? The older veterans have seen coaches come and go, but as 14-year veteran Raiola said, "Coach Schwartz was good for us but it was time for a change."
• Can the Lions get a deal done with Suh? Right now Suh's contract eats up too much of their salary cap and Suh didn't want to talk about his contract with me. I have a feeling there will be no long-term deal coming before the season.
Outlook
When all the openings happened at the end of last season, Bill Cowher told me the Lions job was the best one. They have a QB, an explosive offense and people up front on defense, so why not win nine or 10 games? If their pass rush doesn't get to the QB the secondary could struggle, and with the receivers in Green Bay and Chicago that could be an issue. On the other hand, the Lions swept the Bears last year and split with the Packers. If Detroit doesn't secure a wild card the season would be a disappointment.
Show Comments
Hide Comments
Plus Seahawks eschew needs on the line and Rams seek help for Goff as we hand out NFC West...

Plus Saints and Falcons load up on defense as NFC South gets a massive boost in talent

Lions draft for now, Packers run down their checklist and Vikings find a runner in our NFC...
Plus Giants do a lot with a little and Eagles and Redskins face durability concerns in our...

Plus Broncos and Chargers help their QBs while Raiders gamble big in our AFC West grades

Texans pin hopes to Watson, new Jaguars must focus and Titans help Mariota in our AFC South...