Lions turn to Patriots scouting director Bob Quinn to fill GM spot
Quinn was with New England for 16 years, working mostly in their personnel department.
Back in November, the Detroit Lions fired general manager Martin Mayhew, along with president Tom Lewand. They've been conducting a search for a new man to lead the organization since then, and it appears they've finally settled on their man.
New England Patriots director of pro scouting Bob Quinn will take on the role, according to CBS Sports NFL Insider Jason La Canfora.
The Lions have since confirmed that they have an agreement in principle with Quinn.
Detroit Lions team President Rod Wood has confirmed that the team has agreed in principle to a deal with Bob Quinn to be the new GM.

— Tim Twentyman (@ttwentyman) January 9, 2016
Quinn replaces interim GM Sheldon White, who had been in the position since Mayhew was let go (Wood was appointed president in place of Lewand). Other candidates for the position reportedly included Trent Kirchner, co-director of player personnel for the Seahawks, and Kevin Abrams, assistant general manager for the New York Giants.
The Lions also reportedly reached out to and were rebuffed by Will McClay, assistant director of player personnel for the Dallas Cowboys.
Here's how Quinn was described in the Patriots' preseason media guide:
Bob Quinn enters his 16th season in the Patriots personnel department and his fourth as director of pro scouting after being named to the position in May 2012. Quinn served as assistant director of pro personnel from 2009-2011. Quinn's responsibilities have included both college and pro scouting during his tenure with New England. Quinn was the Patriots' national scout in 2008 after spending four seasons as a regional scout (2004-2007) and two seasons as a pro scout (2002-2003). Quinn joined the team in 2000 as a player personnel assistant. Prior to joining the Patriots, Quinn spent two seasons as a graduate assistant within the division of athletics at the University of Connecticut (1998-99). Quinn earned his master's degree in sports management from UConn in 2000. He completed his undergraduate studies at UConn in 1998. Quinn is a native of Norwood, Mass., and attended Norwood High School. Bob and his wife, Julie, have a son, Kyle, and a daughter, Grace.
Per ESPN's report of the hiring, Quinn is "one of the few members of the Patriots' personnel department who is inside the draft room, which in part reflects the level of trust he's earned within the organization."
A strong personnel mind from one of the most respected organizations in the league that also has a background of draft input sounds like a tailor-made hire for the Lions, who have long been one of the league's doormat franchises (a few recent mild successes notwithstanding).
Quinn walks into a roster situation that is very much in flux. Star wide receiver Calvin Johnson is reportedly considering retirement after nine seasons in the league.
Outside of Johnson, the only players locked in on big-money deals beyond 2016 are Matthew Stafford (his contract runs through 2017), DeAndre Levy (who missed most of this year due to injuries) and Golden Tate. Everybody else on the roster is either on their rookie contract, expiring within the next year or two, or on such a low-money deal as to be financially expendable.
The Lions have the 16th pick in this year's draft and could use help along the offensive and defensive lines, as well as in the defensive backfield. There are seven defensive linemen, three offensive linemen and three corners in the top 20 of the CBS Sports top prospects list, giving Detroit a pretty good base from which to choose if they go in one of those directions.
The fate of Lions coach Jim Caldwell would seem to be up in the air given the new hire. There have been rumors that he's on his way out the door for a while now, but owner Martha Firestone Ford recently said that she had not yet made a decision about his future with the team.
Wood, for his part, has said multiple times that the new GM would make the determination on Caldwell.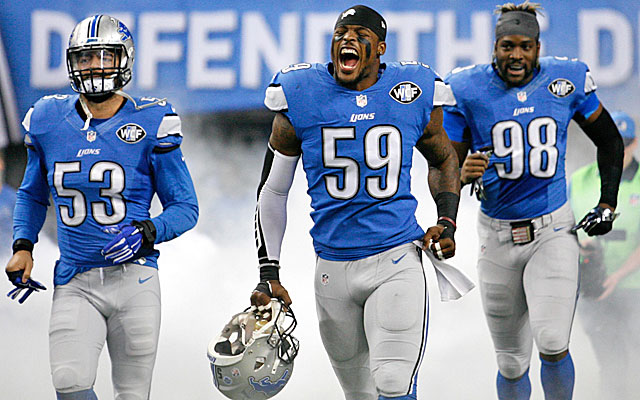 Show Comments
Hide Comments
Sometimes it's hard to figure out what the Bills are doing

Peterson would join a formidable backfield that includes Mark Ingram and, of course, Drew...

John Schneider has a simple rule: He doesn't like lying to people
Kizer, the former Notre Dame standout, is one of the top QBs in the draft class

Can the Browns get it right? Can the Cowboys and Raiders build dynasties?

The versatile safety/linebacker could slip out of the first round