Longtime Raiders executive Amy Trask resigns
Longtime Raiders exec Amy Trask resigned from her position on Saturday, according to a source with knowledge of the situation.
• 1 min read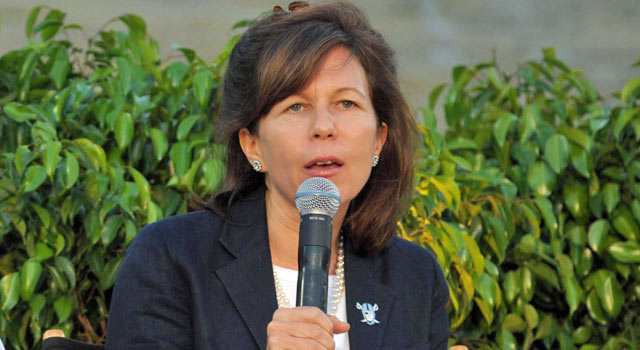 Amy Trask, who was very close with deceased Oakland Raiders owner Al Davis and a trailblazer in terms of women in NFL front offices, told owner Mark Davis on Saturday that she is leaving the organization. Trask was very influential and in essence an extension of ownership but did not share the same type of relationship with Mark Davis as she did with his father.
Trask spent more than 25 years with the organization and was a fixture at league meetings -- many of which Al Davis could not attend due to health issues late in his life. She helped manage the ownership transition to Mark Davis, who had virtually no experience in this realm, but told Davis that she was moving on.
"Having honored a commitment that I made to effectuate a smooth transition and transfer of control, I no longer wish to remain with the organization," Trask said in an email to reporters.
"For over a quarter of a century, it was my honor and my privilege to work for the Raiders. I will forever appreciate the opportunity afforded me by Al Davis."
The move is not a surprise in league circles. It was widely know she and Davis were not in lockstep, and she had been focused primarily on stadium issues recently. Davis flirted with several options of restructuring his franchise this offseason, with the Raiders' revenue and financial situation not ideal, and the team has continued to seek new minority investors, according to league sources.
Davis approached former Raiders coach Jon Gruden about running the franchise and also was in contact with NFL exec Ray Anderson and others about a team president position, sources said. Ultimately, he opted to stick with GM Reggie McKenzie and coach Dennis Allen -- who completed their first seasons in those positions in 2012 -- but not without contemplating sweeping changes.
Trask's role had been reshaped since Al Davis's passing, and the team's future in regard to a stadium remains a huge issue, with many believing sharing a new facility with the 49ers could be their most viable option.
Williams is currently a free agent

Eight members of the Cowboys' defensive front-seven have been suspended since 2015

After being scammed, Portis contemplated murder until his friend dissuaded him
Two months after a woman earned a football scholarship, the AFFL says 'everything is on the...

The quarterback nearly retired this offseason but opted to return for his 15th NFL season

One of 2016's breakout rookie stars says he and Romo have a strong relationship