LOOK: Adidas gives Jim Harbaugh his own Kansas jersey
Adidas gave Jim Harbaugh a Kansas Jayhawks jersey for being able to make halfcourt shots.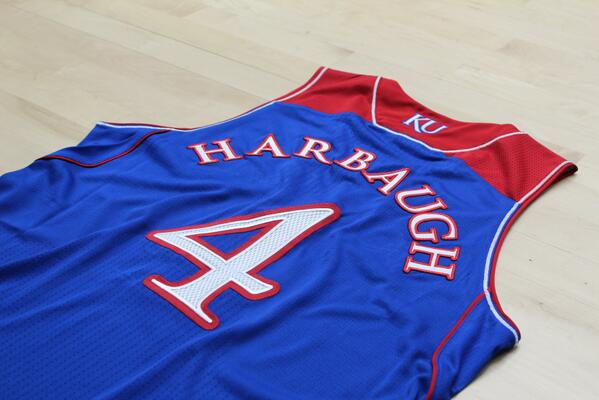 On Wednesday night Jim Harbaugh rocked the highlight-show world by stepping onto the court with the Kansas Jayhawks and tossing down a halfcourt shot. 
They were so impressed with Harbaugh's hardwood skills, Adidas has made him his own Kansas jersey.
Unfortunately there's a zero percent chance Harbaugh wears this.
As we all know, he only wears one outfit. He works, sleeps, eats, and whatever else he might do in khakis and his 49ers shirt. (It's not actually true but go with it.)
Although randomly stumbling onto Harbaugh at a Six Flags wearing this Jayhawks jersey and a pair of $8 khakis would make for a pretty funny photo. 
This is the second off-field incident that has landed Tretola in the news this offseason

The Clemson coach believes his former quarterback has that 'it' factor

The Cardinals quarterback thinks he has more velocity than in years past
The Cowboys owner and GM insists that there isn't a lack of leadership in his team's locker...

The star cornerback says that he and Wilson have a 'professional' relationship

The Giants wide receiver went out of his way to visit young Jayro Ponce