LOOK: Adidas gives Jim Harbaugh his own Kansas jersey
Adidas gave Jim Harbaugh a Kansas Jayhawks jersey for being able to make halfcourt shots.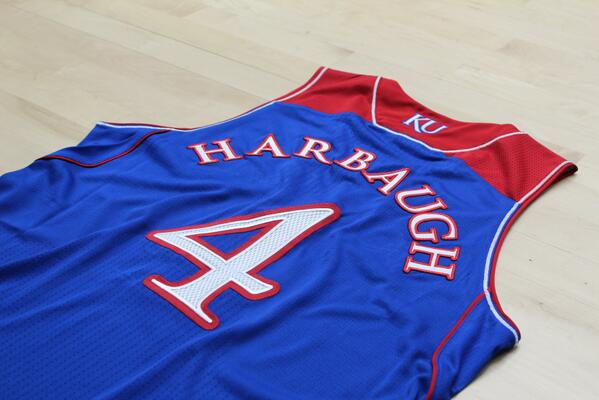 On Wednesday night Jim Harbaugh rocked the highlight-show world by stepping onto the court with the Kansas Jayhawks and tossing down a halfcourt shot. 
They were so impressed with Harbaugh's hardwood skills, Adidas has made him his own Kansas jersey.
Unfortunately there's a zero percent chance Harbaugh wears this.
As we all know, he only wears one outfit. He works, sleeps, eats, and whatever else he might do in khakis and his 49ers shirt. (It's not actually true but go with it.)
Although randomly stumbling onto Harbaugh at a Six Flags wearing this Jayhawks jersey and a pair of $8 khakis would make for a pretty funny photo. 
Show Comments
Hide Comments
Our Latest Stories
The Super Bowl era's losingest coach latches on with Los Angeles' new little brother

If the Falcons are going to reach the Super Bowl, they'll need to knock Aaron Rodgers arou...

Even if you're not a fan of Brady & Co., there's one very simple reason to pull for New En...
The Patriots quarterback was in no mood to talk about the 45th president

Johnny Manziel and Ray Rice are being invited to make a return to football

Versatility, patience, great run-blocking ... Bell has the pieces in place to succeed in any...