LOOK: Fan's letter rips 'Mr. Classless Cam Newton' for Seahawks flag toss
Seahawks fans are not pleased with Cam Newton after he chucked a Seahawks '12th man' flag.
• 1 min read
Just in case Cam Newton ever grows tired of Superman, a Seahawks fan has kindly volunteered another nickname for the Panthers' star quarterback: Mr. Classless Cam Newton.
Sarah, who describes herself as a Seahawks fan that bleeds blue and green, wrote a letter to Newton shortly after the Panthers ended the Seahawks' season with a 31-24 win Sunday. In the letter, which was posted to KIRO 7 News' Facebook page, Sarah took aim at Newton's actions after the game -- when Newton grabbed a "12th Man" flag and chucked it away.
Sarah ripped Newton in her letter, even referring to him as "Mr. Classless Cam Newton" toward the end. Her full letter can be read below ...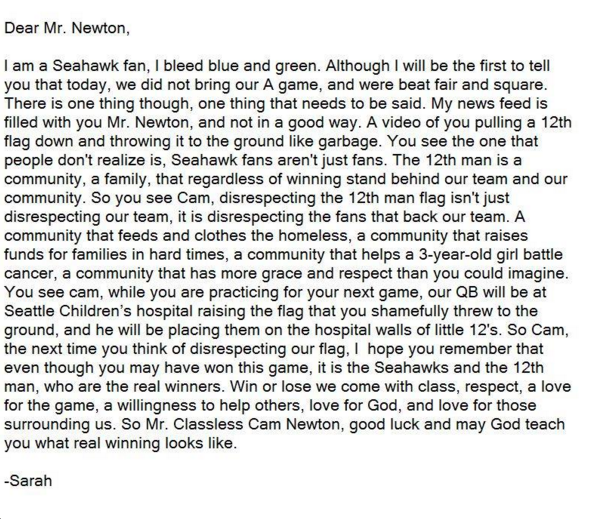 Of course, this isn't the first time Newton's been criticized in a public letter. Earlier this season, a Titans fan's letter, in which the fan complained about Newton's behavior on the field, was published in the Charlotte Observer. As Will Brinson wrote back in November, Newton is often unfairly criticized for his behavior.
On Sunday, Newton was celebrating his team's well-deserved win over the back-to-back defending NFC champs. He was celebrating with Panthers fans by taking a victory lap around the stadium. When he was handed that flag and threw it, he wore a huge smile on his face.
To put it another way, he was having fun -- probably because sports are supposed to be fun.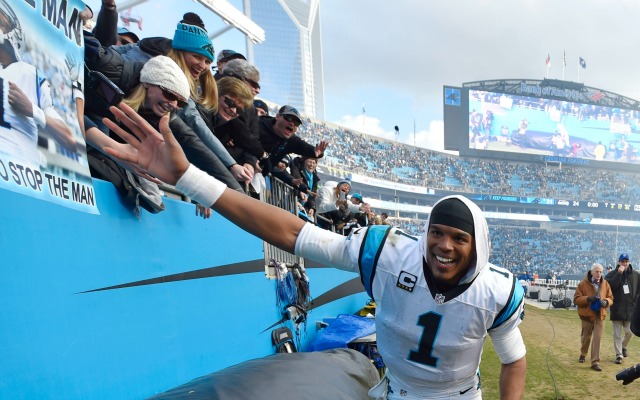 Show Comments
Hide Comments
Our Latest Stories
The running back is supposed to get his first action against the Steelers

The Cowboys are going to play it safe with their star receiver, who's dealing with a knee...

Jackson said the team is "moving on" from the talented wideout
Are rookie quarterbacks Carson Wentz and Dak Prescott as good as the numbers suggest?

The Bills' 2014 first-round pick is battling a foot injury that could linger for some time

Bo knows that head injuries are enough to make him reconsider his career path